Recently I've been exploring the best ways for companies to establish their workers successfully in the use of social media, both internally and externally to their organizations. Driving adoption and effective uptake of social tools varies rather widely in how easy and quickly it is to for a given business to realize. For example, this process is the most challenging for regulated industries as I deconstructed at length on ZDNet this week. Yet it's the same issue for all firms: How do we quickly and effectively deal with issues surrounding risk, control, and trust so that we can get to the good part and reap the rewards of social media engagement?
A few weeks ago I took a look at useful and proven techniques for the the early adoption phase of social business, which is often the trickiest and most fraught with challenges. But there's another important aspect of social media that's often neglected, overly legalized, and treated as a static formality through which to guide social media use in safe and constructive directions (again primarily to deal with risk and associated worries.) I'm talking about the often-discussed but all-to-frequently under appreciated social media policy.
Social media policy is usually not perceived as an exciting topic, yet at this stage of the industry nothing could be further from the truth. It should now be considered a primary enabler as enterprises develop — or update — their social business strategies. Because of this perception, one of the more powerful and transformative tools in the social business arsenal will be left to languish unmodernized by many, making the organization do too much work, assume too much downside, and ignore important upsides.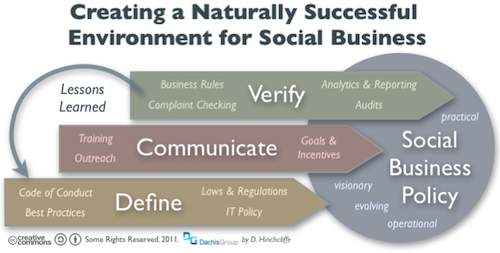 The good news is that from my experience, most social media policies have evolved into largely common sense listings of how to protect yourself, your co-workers, the company, and your customers from potential missteps in a very public forum. In that most workers can now read and generally understand their company's social media policy (at least once, hopefully) it serves its purpose. But an infrequently revised and non-operational social media policy means that 1) most of the potential value that it could provide fails to be seized and 2) it misses a major opportunity to become a place to communicate and realize strategic vision and on-the-ground change across the company in a surprisingly concrete way.
The essential point here is that the manner in which companies go about connecting their employees to the channels of social media does very much matter in the end. Creating an environment that makes it easy for workers to succeed is one of the most important first steps. In this, a more up-to-date and modern conception of social media policy and associated governance is needed. It must be adaptive, dynamic, and living. It must also have a closed feedback loop with the rapidly changing and evolving environment it purports to govern.
The industry has recently begun seeing the necessary trappings from enterprise social software vendors to enable a new vision for social media enablement, one driven by policy, yet leaves participants free to act as they need, knowing they'll be quite safe in the boundaries that have been prescribed. When it comes to the strategies to drive social business performance, we find that social media works best when its users are set free to create the collaborative patterns, structures, and processes they need to work together, inside, outside, or between companies. When they have a safety net that ensures they can act with confidence, the results will correspondingly improve. And when corporate governance and senior leaders realize that the safety net is operational around the clock and around the globe and that it accurately represents their concerns, they have their own level of confidence to begin driving forward social business objectives, knowing that in these fairly uncertain times, that their imagined downsides are at bay.
What does a modern social business policy look like, one that enables this scenario? It should contain the following three ongoing processes:
Define
The modern social media policy should be contained in a blog post, wiki page, or some other social artifact so it can be revised quickly and easily, as well as commented on and discussed. It should be updated no less than once a month and preferably after every significant lesson learned.
It should contain the code of conduct, key laws and regulations that must be followed for that industry and company, as well as relevant IT policy and associated issues. It should also contain good examples of best practices that helps spark workflow improvements and local innovations to business processes. This latter piece is a major opportunity missed in my opinion and requires little additional effort. The policy should also represent the latest best practices being captured within the organization, giving examples of key elements of the policy. In fact, tying useful techniques to policy ensure that the additional context makes it more relevant as well as making it much more useful and interesting to most line workers, increasingly absorption.
Communicate
The social media policy should be communicated via training, clearly articulated goals and incentives (real-life examples of which I'll explore as soon as possible), and executive outreach including leading through example. Communication of the policy should be conducted during new employee on boarding, for contractors, and for existing employees, ideally using lightweight education technologies that makes it simple to review. In fact, since the policy will change often, the lightest weight forms of content should be used since it will be updated frequently.
Verify
When it comes to social media, the best way to reduce concerns about risk and liability while simultaneously ensuring safety and widespread participation is to trust, but verify. The latest social media compliance tools can be used to literally embody the social media policy as a real, participatory actor in the system, creating secure narrative logs for regulators and internal audit, while monitoring conversations, detecting policy violations quickly, and interceding automatically if necessary. This is where exciting new fields of social analytics and business intelligence come into play as a key element of monitoring, detection, and reporting. I'll be exploring the latest of these capabilities soon to see what their strengths and weaknesses are, but it's currently ushering in a major new way to connect policy, corporate governance, while lifting the shackles from social media so it can get real work done while practically dealing with the realities of a highly dynamic and freeform new medium.
Thus, taking all three of these processes into account, the best way to connect employees to social media is to create an environment where their actions are not only going to be checked with business guidelines at a distance, but literally made safe yet productive at all times. While this is a newer conception of policy, as a living, breathing agent in the ecosystem, it's one that is now within reach for most firms to ensure the openness and transparency of social media give us the results we're looking for, day in and day out.
Social business is rapidly evolving and the possibilities of enabling social media in a policy driven way that lowers concerns while tapping into what makes it special is key. I'd love to hear your stories about how your organization is dealing with policy.