This is a paper I wrote for my Health Economics class. I originally shared it on Google Docs, but due to popular demand (well, from one person anyway 🙂 I'm cross-posting it here. Comments welcome.
The Expected Effects of the Public Option and Mandated Coverage on Health Insurance Premiums and Total Medical Expenditures
Charlie Wood
November 30, 2009
On November 7, 2009 the U.S. House of Representatives passed HR 3962, a comprehensive health care reform bill that included among its numerous provisions the creation of a health insurance program to be operated by the federal government, commonly called "the public option", and a mandate that most legal U.S. residents obtain health insurance.1 This paper examines how the combination of the public option and the individual mandate should, all else equal, be expected to affect health insurance premiums facing both participants and non-participants in the program and total medical expenditures.
What is the Public Option?
In order to analyze the effects of the public option it is important first to define it. The public option as described by HR 3962 is a government-operated health insurance program that will offer coverage to legal U.S. residents who are not covered by existing government programs like Medicare or Medicaid and who do not have insurance through their employers. Reimbursement rates for health care items and services will be negotiated with health care providers by the government. The premiums charged to participants will be required to cover the cost of the program itself, including startup costs, benefits, administrative costs, and a "contingency margin" of at least 90 days of estimated claims. Benefits and premiums for the various levels of coverage available under the public option will be published online. In addition, although participation in the public option itself is voluntary, HR 3962 includes a mandate that most legal U.S. residents obtain health insurance coverage.
Effects on Premiums Faced by Those Not Covered by Group Insurance

People eligible for the public option will see the most immediate, direct effect on the premiums they face for health insurance. Since they are covered by neither employer-provided plans nor government programs like Medicare or Medicaid, those people currently have two options: forgo health insurance altogether or purchase individual coverage, which is typically very expensive.
Four main factors contribute to the high premiums in the market for individual health insurance: adverse selection and a lack of economies of scale, both of which increase the insurer's costs, and the market's oligopoly structure and limited price transparency, both of which allow insurers to set prices above marginal cost. Together the public option and the individual mandate address each of these factors, which should lead to lower premiums.
First, the information asymmetry inherent in the market for health insurance can lead to adverse selection and ever-increasing premiums. People generally know more than their insurer about how much health care they're likely to consume. Relatively healthier people, that is, those who expect their health care expenditures to be less than the premiums they face, can simply opt out and not buy insurance. The remaining pool of people is relatively less healthy and will therefore incur higher average health care costs, driving up actuarially fair premiums (AFP's). Again, the healthiest people in the group opt out of insurance and the cycle repeats, driving premiums ever higher. The individual mandate included in HR 3962 prevents this cycle by requiring most legal residents to carry qualifying health insurance, solving the problem of adverse selection and substantially lowering AFP's.
Second, the cost of insuring individuals is significantly greater than that of insuring groups due in large part to the economies of scale enjoyed by group insurers. Loading fees for individual policies ranges from 60%-80% of benefits, while those of groups of more than 1,000 are only 5%-8% of benefits.2 The public option is a group plan expected to cover millions of people, and should therefore enjoy significant economies of scale.
Third, the health insurance industry is not a perfectly competitive market, as evidenced by the fact that insurers are able to generate and sustain profits.3 In fact, individual health insurance markets are typically oligopolies dominated by their top three firms.4 As oligopolists, private insurers set prices above marginal cost (PO in Figure 1) and provide an economically inefficient quantity of insurance (QO).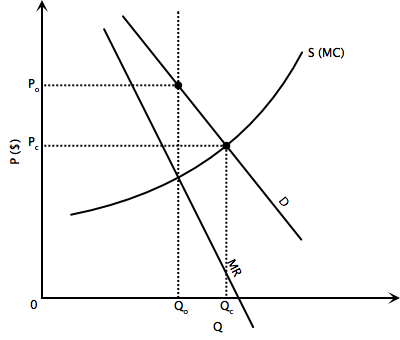 Figure 1. Oligopolistic vs. Competitive Pricing
Since the public option is required to (and presumably, only allowed to) break even, it acts as a competitive firm, setting premiums equal to marginal cost and thereby lowering premiums faced by consumers from PO to PC.
Finally, since information about benefits and premiums for the public option will be easily available via an online exchange established by HR 3962, consumers will enjoy increased price transparency, leading to more competition and lower premiums.
One factor that would make the public option more expensive for some people than it would otherwise be is the requirement that it not vary premiums to reflect differences in enrollees' health. While such a community rating system benefits sicker participants, to cover its costs it does so at the expense of those who are healthier, since they would pay lower premiums if their good health could be taken into account as with experience rating. However, some risk-adjustment mechanisms for the public option are specified and allow premiums for the oldest participants to be twice those of the youngest, helping to mitigate the issue.
By solving the problem of adverse selection with an individual mandate, taking advantage of economies of scale, setting prices equal to marginal cost, and increasing price transparency, the public option is expected to offer premiums that are lower than those currently facing people not covered by group insurance.
Effects on Premiums Faced by Those Covered by Group Insurance
Two other groups will be eligible for the public option in addition to individuals not currently covered by group insurance: employees of small businesses that choose to participate in the public option and workers with employer-based coverage whose existing premiums exceed 12 percent of their income.
Even though the public option will enjoy greater economies of scale than do private plans for small groups, it will still be smaller overall than existing large insurers and will, according to the Congressional Budget Office, "probably engage in less management of utilization by its enrollees and attract a less healthy pool of enrollees," and will, "typically have premiums that are somewhat higher than the average premiums for the private plans."5 Higher premiums will provide no downward pressure on premiums for existing employer-provided plans.
Effects on Total Medical Expenditures
Total medical expenditures are determined by the prices paid for medical care and the quantity of care consumed. The public option's impact on these factors will determine its effect on total expenditures.
While larger insurers are able to negotiate lower rates with providers, the Congressional Budget Office estimates that the administrator of the public option will have limited price negotiating power, and that therefore, "The rates the public plan pays to providers would, on average, probably be comparable to the rates paid by private insurers."6 In other words, the public option will not have an appreciable effect on prices paid for medical care. Its effect on total medical expenditures will therefore be determined by how it impacts the quantity of care consumed.
Demand for certain types of medical care is elastic, and in such cases the quantity consumed depends not on the prices actually paid to providers for care, but the effective prices facing the consumer. The public plan's limited cost-sharing makes these two prices different. For instance, demand is elastic for both well care and mental health care.7 Both are covered by the public option, so program participants will face lower prices for these services (shown as P1 in Figure 2) than the prices actually paid to providers (P0). These artificially low prices will lead people to consume more of these services than they would otherwise.8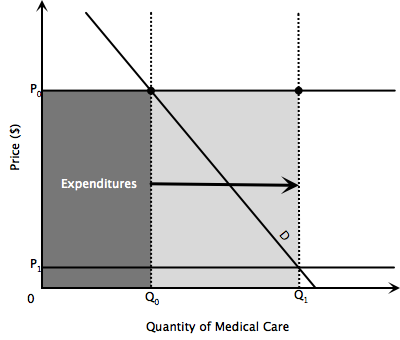 Figure 2. Increasing Medical Expenditures Due to Increased Utilization
Since the prices paid to providers are expected to remain the same but the quantity consumed should increase, total medical expenditures should be expected to increase.
Conclusion: Lower Premiums for Some, Higher Total Medical Expenditures

The public option is only one of many provisions of the health care reforms being debated in the Congress, and will affect more than just health insurance premiums and total medical expenditures. Nevertheless, its expected effects on these two important facets of health economics are clear. Health insurance premiums facing people not currently covered by government- or employer-provided programs should be significantly reduced, while those for others should remain largely unchanged. Prices paid to providers for medical services should remain unchanged, but consumption should increase. As a result, total health care expenditures should be expected to increase.
---
1 Sweeping Health Care Plan Passes House, The New York Times, 7 November 2009
2 Charles E. Phelps, Health Economics, Fourth Edition (New York: Addison-Wesley, 2010), p. 350
3 Fortune 500 2009, Fortune Magazine, 4 May 2009
4 Private Health Insurance: Research on Competition in the Insurance Industry, United States Government Accountability Office, 31 July 2009, p.3
5 Preliminary Analysis of H.R. 3962, Congressional Budget Office, 29 October 2009, p. 6
6 Ibid
7 Phelps, pp. 131, 134
8 This overconsumption due to artificially low prices, or moral hazard, creates deadweight loss, but welfare issues are beyond the scope of this paper.