Archives by date
You are browsing the site archives by date.
By James Governor on September 25, 2009
If anyone counts as a ring leader for emerging global microbrands it is Hugh MacLeod. Hugh is a creative, a prankster, high end management consultant and wine merchant all rolled into one. What is a global microbrand?
The Glo­bal Mic­ro­brand is nothing new; they've exis­ted for a while, long before the inter­net was inven­ted. Ima­gine a […]
Posted in Trends & Concepts | Tagged cartoon

By Craig Cmehil on September 25, 2009
It's been awhile since I blogged about CCD and bees but I've not stopped paying attention. Yesterday in Twitter James (@monkchips) posted a link I wanted to share with everyone.
"We want to give them support right now, as you probably know they are having a bit of trouble; worryingly they are dying out at an […]
Posted in Trends & Concepts | Tagged bees, do your part, environment, help, impact, Thoughts
By Craig Cmehil on September 25, 2009
Years ago it was all about how much, how big and how bright your "thing" was and money was flowing out of every IT shop in the world – it was also during this time that I was constantly looking at Open Source and any and every solution I could find to do my job […]
Posted in Trends & Concepts | Tagged creativity, developers, experiment, ideas, Thoughts
By Thomas Otter on September 25, 2009
(photo CC 2.o attribution, thanks to g-hat!)
World leaders are gathering in Pittsburgh to discuss banking reform and other pressing matters. According to the Guardian,  the discussions are likely to be rocky.
European leaders appeared to be on a collision course tonight with Barack Obama and Gordon Brown after Angela Merkel, the German chancellor, warned that […]
Posted in Trends & Concepts | Tagged banks, economics, European Council, European Union, g20, HR, HR Technology, life, Risk management, sofware
By Brian Sommer on September 24, 2009
I recently wrote about JobVite and how it permits employers to tap into the social networks of its employees to find quality recruits. JobVite permits employers to create eVites that employees, colleagues, etc. can pass around via email or publish to social networks like Facebook. It must be working as one of my old clients […]
Posted in Trends & Concepts | Tagged eVite, HR, internet, Jobvite, recruiting, Sourcing, talent acquisition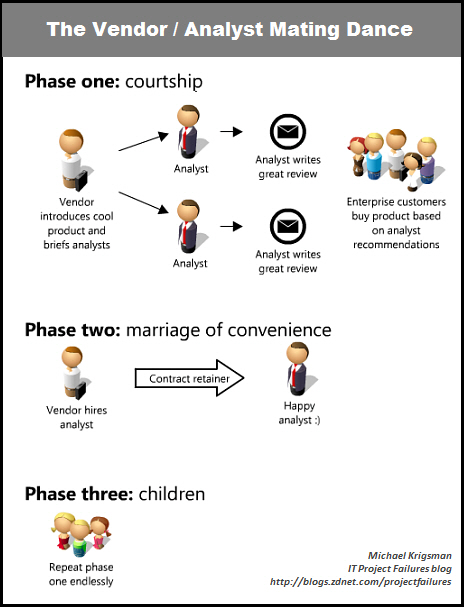 By Michael Krigsman on September 24, 2009
Some industry analysts contribute to IT failures by creating mismatched expectations between customers and vendors. Here's how that happens.
Posted in Business | Tagged CIO issues, Consulting, Devil's Triangle, IT issues, Vendor relationships
By Sadagopan on September 23, 2009
Nielsen reported few weeks back that on an average Americans watch 153 hours of TV every month and 3 hours of online video every month. Video ads are beginning to appear in newspapers! Video has a powerful impact, it is easy to share on social platfor…
Posted in Business | Tagged Cisco, Internet Platforms, Video
By Susan Scrupski on September 23, 2009
Novell hired me to do a short webinar explaining the chronology of Enterprise 2.0 and some of the key challenges in embracing it. I created this presentation which has a visual I am continuing to refine that explains e20 relative to the social memes. I created this presentation before the meme wars began […]
Posted in Business | Tagged adoption, Enterprise 2.0, Social CRM, Social Media