Archives by date
You are browsing the site archives by date.
By Sandy Kemsley on October 19, 2009
Apparently, Shel Israel's fact checkers were too busy to actually check facts the day that they proofed page 208 of his new book Twitterville: I am not, nor have I ever been, the mayor of Toronto. After a couple of people alerted me (via Twitter, of course), I hiked over to the local bookstore and […]
Posted in Trends & Concepts | Tagged off topic, Shel Israel, Twitter, Web 2.0
By Vinnie Mirchandani on October 19, 2009
I was remarking to someone recently all the thorny issues that are coming up with new technologies like food/biofuel tradeoffs, "God powers" with nanotech and genetic engineering and more basic ones like privacy issues and routing of traffic through neighborhoods…
Posted in Trends & Concepts | Tagged Industry Commentary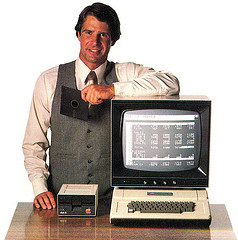 By Ross Mayfield on October 19, 2009
Today marks the 30th anniversary of VisiCalc, the spreadsheet that sparked the PC Revolution. You can read on Dan Bricklin's blog the evolution of the spreadsheet from then to now, the day Socialtext took SocialCalc out of beta. To help…
Posted in Technology / Software | Tagged Dan Bricklin, socialtext, Spreadsheet, VisiCalc

By Jeff Nolan on October 19, 2009
It's not often that I disagree with Mike and I am not ready to fully do that here but he is not fully centered on the core issue either.
Kimball is correct that he should be better defining his brand and proving his worth — that's what we've been saying all along. But you can do […]
Posted in Trends & Concepts | Tagged advertising, Bon Appétit, Cooks Illustrated, Magazine, media, publishing
By Michael Krigsman on October 19, 2009
CRM failure remains a significant problem in many organizations. For that reason, it's important to explore why so many of these projects do not achieve their potential. Related: CRM failure rates: 2001-2009 For this reason, I asked Jill Dyché, a Partner with IT services and management consulting firm, Baseline Consulting to write a guest post […]
Posted in Business, Featured Posts | Tagged CIO issues, Cultural issues, IT issues, Management consulting, Project success