Archives by date
You are browsing the site archives by date.
By Anshu Sharma on November 1, 2009
Finally, Windows 7 is out and reviews are mixed but better than Vista – generally seen as vast improvement over Vista (which was accepted by Steve Ballmer as work in progress or worse). But this is not what this post is about. Even if Microsoft built p…
Posted in Business | Tagged Cloud Computing, gmail, microsoft, Microsoft Outlook, search, vista, win7, Windows 7, Windows Vista, xobni
By Michael Krigsman on November 1, 2009
Every executive knows that gaining detailed and accurate information about his or her organization's activities is a challenging and ongoing struggle. New techniques that reveal hidden vulnerabilities are now available.
Posted in Business, Featured Posts | Tagged CIO issues, Collective intelligence, Cultural issues, Decision making, Enterprise 2.0, Governance, Information technology, IT issues, Management, Project strategy, Risk, Tools, weak signals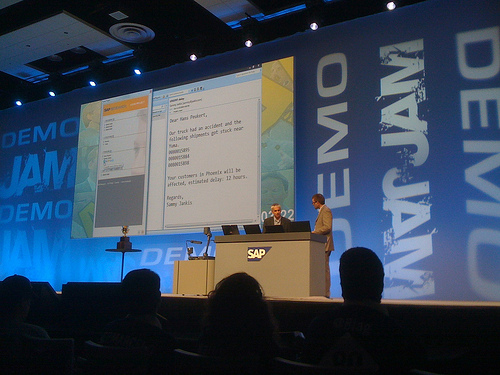 By Michael Coté on November 1, 2009
There was no giant news at SAP TehcEd Phoenix a few weeks ago, but in the nooks and crannies there were some previews of things to come and the drawn-out proving of SAP's notion of "timeless software," or "pace layering," as James likes to call it. But, a technology company can't be judged entirely by […]
Posted in Featured Posts, Technology / Software | Tagged bbd, Business ByDesign, ByD, conferences, enterprise software, erp, sap, SAP NetWeaver, sapteched, sapteched09, SOA
By Vinnie Mirchandani on November 1, 2009
I have written positively about my experience with FreeConference.com for almost a decade now. You and others pay your own long-distance charges to a common conference number, usually in a rural state like Iowa. The service provider then charges termination…
Posted in Business | Tagged Telecommunications
By Sig Rinde on November 1, 2009
On Friday I was asked to give a presentation of Thingamy to an audience of non-techies. My preparation and energy was a tad hampered by a bad cold and three days of non-stop meetings at SAP TechEd. The presentation format…
Posted in Business | Tagged brp, enterprise software, Thingamy, Work processor