Archives by date
You are browsing the site archives by date.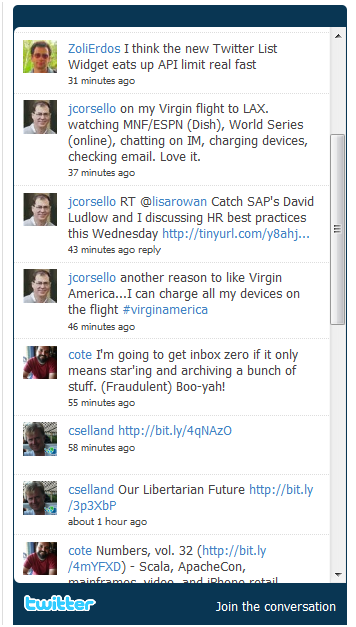 By Zoli Erdos on November 2, 2009
CloudAve readers can now follow the contributing bloggers' twitter stream in a sidebar, thanks to a cool widget called Tweet Blender.   Finding it was not easy: I combed through at least 100 plugins / widgets, all doing essentially the same: follow a person, or do keyword search.  Either or.. not both.  And definitely not a […]
Posted in Technology / Software | Tagged API, API quota, Application programming interface, caching, CloudAve, Facebook, list widget, plugins, Product reviews, tweet, tweet blender, Twitter, Twitter Lists, widgets, wordpress
By Michael Krigsman on November 2, 2009
In this guest post, Miko Matsumura, Vice President and Chief Strategist of Software AG, takes an insightful look at the meaning of "enterprise."
Posted in Featured Posts, Trends & Concepts | Tagged and SOA, CIO issues, e20con, Enterprise 2.0, Enterprise 2.0 Conference, enterprise software, Enterprise2conf, IT issues, PaaS, SaaS, Software AG | 1 Response
By Ross Mayfield on November 2, 2009
In 2006, Enterprise 2.0 gained a definitional framework with Andrew McAfee's seminal article. But then the conversation quickly shifted to adoption frameworks. In part this was needed for something that was both new and powered by people. But unfortunately it…
Posted in Business | Tagged Altimeter Group, Enterprise 2.0, Social Enterprise, Social Media, socialtext
By Jason Busch on November 2, 2009
In the first column in this series on CIT's bankruptcy and the retail supply chain, Kurt Cavano, Chairman and CEO of TradeCard, provided background perspective on CIT's historic role and fit within the industry. In this post, we'll continue the analy…
Posted in Business | Tagged Asia, bankruptcy, chapter 11, CIT, fob, Retail, Retail Trade, Sourcing, supply chain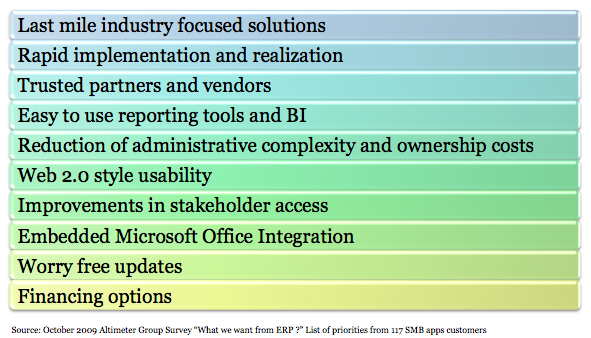 By R "Ray" Wang on November 2, 2009
Competition Intensifies For The Small And Medium Organization's Software Budget
Software vendors such as Oracle and SAP can no longer rely on their large enterprise customers for double digit year-over-year growth.  In fact, their customers have not only reached a saturation point in being able to consume new solutions, but have also faced demands to cut […]
Posted in Business, Featured Posts | Tagged best practices, business requirements, business solutions, CDC Software, channel programs, channels, Cloud Computing, enterprise applications, enterprise apps, Enterprise Business Apps, Enterprise Business Apps Vendors, enterprise software, Epicor, erp, Exact Software, financing options, IFS, Infor, Lawson, market strategy, microsoft, Microsoft Business Solutions, Microsoft Dynamics, Microsoft Office, netsuite, oracle, QAD, SaaS, smb, sme, social enterprise apps, Software Ecosystems, software trends, Software Vendors, SYSPRO, vendor financing, vendor strategy, VM Ware, Web 2.0

By Dennis Moore on November 2, 2009
According to Wikipedia, chutzpah is "the quality of audacity, for good or for bad". The award for "chutzpah of the week" has a clear winner, and it's only Monday! The winner is Monty Widenius. Here's a guy who was significantly responsible for mySQL, but so were several others, not to mention the thousands of other […]
Posted in Business, Featured Posts | Tagged acquisition, Chutzpah, Database, Monty Widenius, mySQL, Open source, oracle, sell-out, Sun Microsystems
By Jason Busch on November 2, 2009
Over the weekend, CIT Group, a large specialty lender / factor, filed for for Chapter 11 bankruptcy protection. According to the Times Online, "The collapse of the 101-year-old Utah-based lender, which trails behind only those of Lehman Brothers, Was…
Posted in Business | Tagged bankruptcy, chapter 11, CIT Group, Lehman Brothers, supply chain
By Chris Selland on November 2, 2009
The technology industry is maturing, and as a result the 'Crossing the Chasm' thinking has served the industry well needs to adapt. These days, companies need to think beyond the Chasm, and think of 'the Next Hill'. This means getting beyond the 'single-product, single-market' focus needed to cross the chasm, and thinking about building a portfolio of products, services and markets.
This suggests that tech M&A will make a comeback, and also that companies which do not expand into new products and markets will be outflanked by their competitors.
Taking the Next Hill is a post from: The SiliconANGLE
Posted in Business | Tagged Analysis, Bleeding Edge, Entrepreneurship, innovation, M&A, startups, Venture Capital
By Michael Krigsman on November 2, 2009
I'm assembling the definitive Twitter list of folks who have demonstrated deep insight and commitment into analyzing the causes and prevention of IT failures and need your help.
Posted in Trends & Concepts | Tagged Blog annoucements, CIO issues, IT issues, Twitter

By Jason Busch on November 2, 2009
In my first column covering Oracle's new Spend Classification product, I touched on a number of background elements about the solution. In today's post, I'll continue this examination, digging into how the tool works in practice (and in the final par…
Posted in Technology / Software | Tagged Data mining, databases, mrp, oracle, spend classification, taxonomy, UNSPSC