Archives by date
You are browsing the site archives by date.

By Jason Busch on November 12, 2009
Earlier today, IQNavigator, one of the top VMS platform providers (and also an MSP), announced that procurement and staffing industry outsider, Lou Andreozzi, would be taking over the helm. Andreozzi is replacing John Raeder, who founded IQNavigator …
Posted in Business | Tagged fieldglass, gtcr, iqnavigator, Leadership, Management, Services Procurement
By Zoli Erdos on November 12, 2009
The title says it all… just click the image.  Update: Defrag is now over, and so is our live stream.
Posted in Trends & Concepts | Tagged conferences, defragcon, Twitter
By Chris Selland on November 12, 2009
Not surprisingly, there's a lot of interest and speculation in what happens next after the $HPQ acquisition of $COMS.
First of all, yes of course $HPQ is going after $CSCO (who isn't these days?) – but as usually happens when the leader gets attacked, I expect the damage, at least in the near-term, to be minimal. […]
Posted in Business | Tagged 3com, Cisco Systems, Hewlett-Packard, hp, M&A, Mergers & Acquisitions, Networking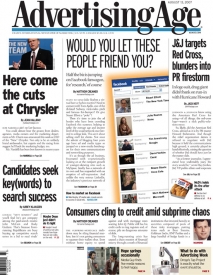 By Jason Busch on November 12, 2009
In the first post in this series, I provided a few background observations from a recent Advertising Age article analyzing the marketing spend area and those that are getting involved in managing this category for the business. In this post, I'll con…
Posted in Business | Tagged advertising, Advertising Age, Marketing and Advertising, marketing spend, Social Media
By Sandy Kemsley on November 12, 2009
I had a briefing this week on Fujitsu's just-released Interstage BPM version 11 as well as an update on their cloud platform. I'll cover the cloud platform in another blog post, since this one is getting a bit long. Version 11 has a lot of new features for handling ad hoc, collaborative, knowledge-intensive work; this […]
Posted in Technology / Software | Tagged BPA, BPM, Business process management, fujitsu
By Ross Mayfield on November 12, 2009
In a thoughtful post, Ev explains the thoughts behind why twitter implemented Retweets. There are a lot of good reasons for adapting this user generated convention into mainstream use. MG Siegler, Sean Bonner and others provide some insight into how…
Posted in Business | Tagged Bing, EvanWilliams, google, microblogging, Online Communities, retweet, search, Twitter
By Vinnie Mirchandani on November 12, 2009
The thinking in most of the tech industry is we don't need government intervention – at least not in the enterprise side of the business. Big corporations don't need protection. They can hold their own against the big vendors. I…
Posted in Business | Tagged Business, business & government, EU, European Union, government, government intervention, microsoft, oracle, regulation, sap, US
By Craig Cmehil on November 12, 2009
For awhile now I've worked with and "mentored" various students doing their thesis and doctoral work and I've meet some of these students in the past but none quite like what took place at the SAP TechEd Vienna event. This was the first time I had meet a student that I had spent time over […]
Posted in Business | Tagged Community, education, events, georgia demetriou, jake kuramoto, justin kestelyn, lauren cooney, people, research, Thoughts

By Jason Busch on November 12, 2009
There's been much ado in the international automotive press the past couple of days about Renault/Nissan's plan to collaborate with an Indian motorcycle OEM to "launch an ultra low-cost car in India in 2012 that will cost less than Tata Motor's Nano"…
Posted in Business, Featured Posts | Tagged auto industry, car, cost cutting, engineering, India, Manufacturing, Nissan-Renault, supply chain, Tata Motors, tata nano