Archives by date
You are browsing the site archives by date.
By R "Ray" Wang on November 25, 2009
Building Innovation With And Around Your SAP Environment Keynote summary: Pace of change continues to increase in market forces, work dynamics, business models, and pace of technology adoption. Innovation is essential in this market. There's a tonne of innovation at SAP. Management and politics keep it from coming out. Users need to tap into innovations […]
Posted in Business | Tagged Apps Strategy, business execs, Business suite 7, contract negotiations, contract strategy, customer advisory boards, enhancement requests, enterprise applications, enterprise apps, Enterprise apps strategy, Enterprise Business Apps, Enterprise Business Apps Vendors, enterprise software, erp, innovation, license fees, maintenance fees, oracle, role of user groups, SaaS, sap, SAP Business Suite 7, SAP Enterprise Support, SAP User Group UK & Ireland, software contract reviews, Software Ecosystems, software licensing, software licesing and pricing, Speaker Notes, user conference, user event, user group events, user groups, users | 3 Responses
By Michael Krigsman on November 25, 2009
Long known as a diverse group of top-notch thought leaders, the Enterprise Irregulars has added three new members. Here's what's happening in their Irregular world.
Posted in Business | Tagged CIO issues, IT issues | 1 Response

By Jason Busch on November 25, 2009
If anyone had any question as to whether or not Hubwoo would pursue a business model independent of SAP, this recent announcement should silence any dissenting voices. Now, it was not always this way. Hubwoo once flirted with a different master befor…
Posted in Technology / Software | Tagged Business Model, erp, hubwoo, sap
By Vinnie Mirchandani on November 25, 2009
Three very different data points over the last month contribute to this post a) I was impressed to see at the Dreamforce conference last week how much custom development is going on on the force.com platform. The numbers we heard…
Posted in Business | Tagged erp, Marc Benioff, netsuite, packaged software, salesforce.com, sap, software as a service, Zach Nelson | 1 Response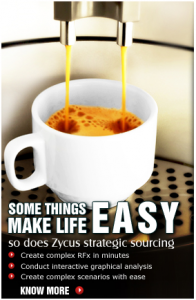 By Jason Busch on November 25, 2009
In the first post in this series yesterday, I examined some of the factors driving Zycus' impressive growth numbers, drilling specifically into their recent traction with both legacy (e.g., spend classification) and new (e.g., spend analysis, sourcin…
Posted in Business | Tagged analytics, BPO, Category Management, innovation, Outsourcing, Sourcing, Spend Management, Visibility
By Zoli Erdos on November 25, 2009
Posted in Trends & Concepts | Tagged Humor