Archives by date
You are browsing the site archives by date.
By Jeff Nolan on December 8, 2009
It's Christmas and that means, among other things, a ringing bell next to a big red kettle. I did this last year and was so happy to see that people stepped up to help me surpass my modest goal, so this year I am upping the goal and asking that even in this economy people […]
Posted in Trends & Concepts | Tagged charity, Christmas, Holiday, red kettle, salvation army
By R "Ray" Wang on December 8, 2009
Begin Apps Strategy Projects With Bite-Sized Entry Points
Complexity often plagues today's apps strategies.  With tight budgets, limited resources, and little time, organizations need to find bite-sized entry points. The need to meet ever changing complex business requirements requires a four-step, basic (A,B,C,D) approach:
Align your business requirements with the hierarchy of business needs. Every project […]
Posted in Business | Tagged 2010, Apps Strategy, business drivers, Business process, business process transformation, business requirements, business solutions, business value, CIO, commoditized business process, disruptive, disruptive technologies, enterprise applications, enterprise apps, Enterprise apps strategy, enterprise software, entry points, erp, IT Strategy, KPIs, oracle, outcome focused, SaaS
By Zoli Erdos on December 8, 2009
SAP has provided a Virtual Environment, where analysts, media, bloggers can interactively participate – right now I am watching a live video on their On Demand Strategy (hm.. how appropriate – watching the On-Demand session on-demand). The Virtual Environment includes Twitter tools, including sentiment analysis based on SAP's Business Objects technology:
Posted in Technology / Software | Tagged Business Objects, enterprise, sap, sapsummit, sentiment analysis, Twitter
By Michael Krigsman on December 8, 2009
SAP's 2009 Influencer Summit is in full-swing. Here are first impressions.
Posted in Business | Tagged CIO issues, sap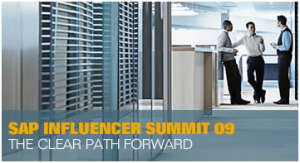 By Paul Greenberg on December 8, 2009
Dr. Sikka begins by talking about what SAP is calling "Timeless software" First up, In Memory Computing THe idea is to incorporate column stores in main memory with use of multi-core processors…
The award winning, edgiest CRM blog on the planet. The…
Posted in Business | Tagged CRM at the Speed of Light 4th Edition, Metrics, Benchmarks, KPIs, Mobile World, Social CRM, social networks, Software As A Service - & Permutations, Web/Tech
By Jason Busch on December 8, 2009
In the debate over group purchasing organizations (GPOs), I'm still
not entirely convinced that they represent a good investment outside
of a handful of select spend areas — at least for most companies.
After all, the payoff for doing sourc…
Posted in Business | Tagged BPO, Category Management, GE, GPO, Group purchasing organization, MRO, Outsourcing, procurement, rfp, Sourcing

By Paul Greenberg on December 8, 2009
I'm going to attempt to live blog this to some degree because I can't tweet due to really bad wifi and a dead power strip too. More on my gripes later. Jim Snabe, for Product Strategy (Jim Snabe is…
The award winning, edgiest CRM blog on the planet….
Posted in Business
By Jason Busch on December 8, 2009
In a column earlier this week, I examined how boutique e-sourcing
providers like e-Three are gaining strong adherents in the sourcing
world from procurement leaders attracted to the cost, flexibility, and
expertise that smaller firms offer, …
Posted in Business | Tagged BPO, e-Three, Enterprise resource planning, oracle, procurement, sap, Sourcing, Spend Management