Archives by date
You are browsing the site archives by date.
By Dennis Moore on December 28, 2009
Last week, I shared some advice for CEO's as gleaned from colleagues at Enterprise Irregulars. A few more chimed in this week, and I thought I'd share some more advice to enterprise software industry CEO's.Greg GianforteFix your messaging finally. It…
Posted in Business, Featured Posts | Tagged AT&T, Cisco, EnterpriseIrregulars, hp, ibm, microsoft, netsuite, oracle, RightNow, salesforce.com, sap
By Michael Krigsman on December 28, 2009
Human and organizational factors such as politics, information silos, and change management generally underlie IT success and failure.
Posted in Business | Tagged CIO issues, Cultural issues, Governance, interview, IT issues, Podcast, Project strategy, SaaS, PaaS, and SOA | 1 Response
By Phil Wainewright on December 28, 2009
Over the next week or so, I'm going to highlight several emerging trends in computing that I believe will be very much worth watching in the coming year as important sources of innovation and competitive advantage for those who harness…
Posted in Featured Posts, Trends & Concepts | Tagged Amazon Web Services, Business Model, Cloud Computing, commoditization, Competitive advantage, Knowledge Creation, Knowledge Management, pricing, Service level agreement, software as a service
By Paul Greenberg on December 28, 2009
Decisions. Decisions. Decisions. Oh, wait, you probably think that I'm talking about which companies to watch in 2010.  Nah. I already made those decisions.  I'm talking about how to deliver the list.  Should I do it the splitscreen method?  One big post? Several parts? Well, I've made my decision.  Three parts, over a few days. […]
Posted in Featured Posts, Technology / Software | Tagged crm vendors, Facebook, Industry Analysis, microsoft, netsuite, oracle, SaaS, salesforce.com, sap, software as a service, Technology Reviews | 2 Responses
By Naomi Bloom on December 28, 2009
This is the last, at least for a while, post in a series I've been doing that suggest some "killer" scenarios for HR leaders and their teams to use when considering how to design their HRM processes and their HRM delivery system.  These are also […]
Posted in Business | Tagged "Killer" HRMDS Scenarios, HRM, HRM Software, HRMDS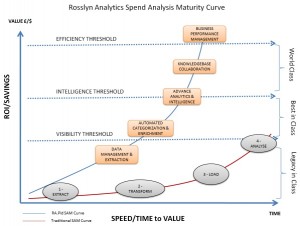 By Jason Busch on December 28, 2009
In the first of this two-part series on the new enterprise spend analysis product from Rosslyn Analytics, I tackled some of its spend visibility basics, such as how does the solution handle data, acquisition/management, enrichment, and basic spend qu…
Posted in Technology / Software | Tagged analytics, innovation, Invoicing and EIPP, Rosslyn Analytics, Spend Management, Visibility