Archives by date
You are browsing the site archives by date.
By Michael Krigsman on February 2, 2010
Despite the growth of BI, achieving ROI remains a challenge; video interview with Michael Corcoran, Chief Marketing Officer of Information Builders.
Posted in Technology / Software | Tagged business intelligence, CIO issues, Data Warehousing, Decision Support Tools, implementation, Information Builders, interview, IT issues, Video interview | 2 Responses
By Jason Busch on February 2, 2010
A couple of days ago, JDA closed its acquisition of i2, completing a supply chain vendor roll-up of two of the most valuable technology assets in the planning business: i2 and Manugistics. Back in the crazy B2B marketplace/exchange era, no one would …
Posted in Business | Tagged i2, JDA, manugistics, supply chain, supply chain management
By Phil Wainewright on February 2, 2010
Broadband service provider ntl:Telewest terminated my account today moments after its customer service lines closed for the day, leaving my no way to resolve the issue for eight crucial hours. How inane is that?
Posted in Business | Tagged customer disservice, Customer Experience, customer service, Hall of Infamy, hall of shame, ISP, Telewest, Virgin Media | 2 Responses
By Tom Raftery on February 2, 2010
Following on from my earlier post about the importance of turning things off, we had a briefing the other day from a company called 1E. 1E entered the power management space about 10 years ago when they wrote NightWatchman. NightWatchman is a PC power management application which aims to reduce the energy wasted by computers […]
Posted in Technology / Software | Tagged 1e, AT&T, Carbon emissions, data center, Dell, efficiency, Energy, Energy conservation, energy efficiency, nightwatchman, nightwatchman server, pc power management, Personal computer | 1 Response
By Dion Hinchcliffe on February 2, 2010
Ray Wang began an excellent discussion last month that highlighted the major shifts and disruptive forces that the modern CIO faces today. It's a given with most executives these days that the business landscape is quite a different one than it was just two short years ago. As part of this, many long-held assumptions and […]
Posted in Trends & Concepts | Tagged Business Models, cios, Crowdsourcing, enterprise, Enterprise 2.0, Enterprise Computing, Industry Trends, Open APIs, Open Business Models, social business, social computing, transformation
By Zoli Erdos on February 2, 2010
Many of you will recognize the title – borrowed from "Enterprise 2.0 a Crock" Dennis Howlett. Needless to say I was quite interested in his discussion with David Terrar, who is more of an E20 fan. Hm…hard to watch.  Dennis is too loud while David is barely audible.  I kept on turning the volume up […]
Posted in Trends & Concepts | Tagged blogging, crock, fad, media, rant, Video | 1 Response
By Jason Corsello on February 2, 2010
Last week, we launched a revolutionary new service at Knowledge Infusion…KI OnDemand.  KI OnDemand is the only on-demand insight, consulting and advisory service of its kind.   What the heck does that mean?  Simply stated, our goal of KI OnDemand is to provide insight, knowledge, and guidance for our clients with three simple outcomes in mind: […]
Posted in Business | Tagged advisory service, Consulting, HR consulting, Human resources, On Demand, Twitter
By Maggie Fox on February 2, 2010
Social Media Group is one of the world's largest independent social media agencies, and we are growing, growing, growing! As a result we're looking to add more awesomeness to our team, in a variety of different roles. BUT – before we get into the nitty gritty, I think it's really important that we share some […]
Posted in Business | Tagged Consulting, Critical thinking, Employment, hiring, jobs, project management, Social Media, Social Media Group
By Susan Scrupski on February 2, 2010
The 2.0 Adoption Council is experimenting with a range of new market ideas that leverage the power of the social web.   The 2.0 thinking surrounding network effects, scale, voluntary collaboration, free (as a business model), and social performance/productivity improvements are just a sample of some of the drivers that have made the Council thrive. […]
Posted in Trends & Concepts | Tagged 12springs, 2.0 Adoption Council, case studies, Enterprise 2.0, enterprise software, erp, Irregulars, SaaS, sap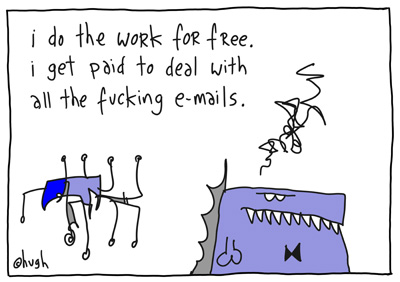 By Sig Rinde on February 2, 2010
Inseparable since the beginning. Following the last post about Information, Knowledge, Wisdom and Innovation let's add one particularly interesting and dynamic object organiser, an object by itself: The Workflow. The representation of a particular sequence where value is created and…
Posted in Featured Posts, Trends & Concepts | Tagged enterprise software, future, Information Age, innovation, State of the world, wealth creation, workflow