Archives by date
You are browsing the site archives by date.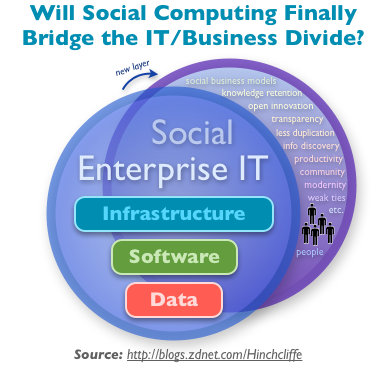 By Dion Hinchcliffe on February 28, 2010
Marc Benioff, CEO of Salesforce, the well-known CRM and cloud computing company (and now soon-to-be social software vendor) wrote a guest post on TechCrunch late last week making the case for "why enterprise software should take its cues from Facebook and become more social."
What then does this mean for the future of IT and what impacts will social computing ultimately have on the enterprise.
Posted in Featured Posts, Technology / Software | Tagged Architecture of Participation, Cloud Computing, Collective intelligence, Community, Digital Strategy, Enterprise 2.0, Enterprise Web 2.0, Network effects, SaaS, social computing, Social Economy, Social Media, social networking, social software, social web, The Social Graph, Web 2.0, Web 2.0 Platforms, Web as Platform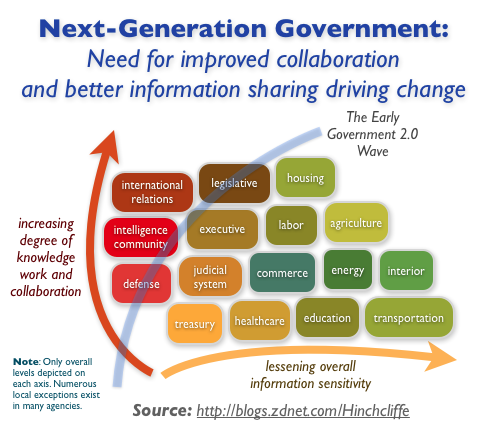 By Dion Hinchcliffe on February 28, 2010
Can social tools and community-based approaches truly help our government function better and operate more efficiently? Will open access to government data create important new opportunities for citizens and increase transparency? As we'll see, these two questions are currently top-of-mind in many public sector policy discussions this year. The questions also herald underlying forces at work in the government landscape in many countries around the world, including the United states.
Here are some of the initiatives that are taking place this year and what's happening with Government 2.0 as 2010 begins to heat up.
Posted in Featured Posts, Trends & Concepts | Tagged Architecture of Participation, blogs, Business Models, collaboration, Collective intelligence, Community, community management, Digital Strategy, Enterprise 2.0, Enterprise Web 2.0, Governance, Government 2.0, Grassroots Community, Open APIs, social computing, Social Economy, Social Media, social networking, social software, social web, Web 2.0, Web as Platform, Wikis