Archives by date
You are browsing the site archives by date.

By Naomi Bloom on March 31, 2010
There's been a lot of commentary on this deal, so well may you ask what more there is to say.  But just like with the Workday 10 release on which I just posted, I think there are several aspects of the NorthgateArinso/Convergys HRO deal that deserve further attention.  Against a backdrop of why Convergys HRO failed and what that failure […]
Posted in Business | Tagged BPO, business process outsourcing, Change Management, HRMDS, HRO, Human resources, M&A, Mergers & Acquisitions, NorthgateArinso, PeopleSoft, SaaS, sap | 2 Responses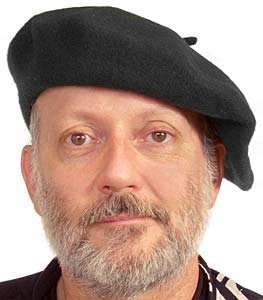 By Niel Robertson on March 30, 2010
Since our recent launch we've gotten a surprising number of inquiries from advertisers looking to run international paid search campaigns. Many of these inquiries come from non-US based companies looking to sell to their local markets. More recently, a smattering of these requests are coming from US companies looking to expand their existing PPC campaigns […]
Posted in Business | Tagged advertising, Crowdsourcing, Foreign Language Pay Per Click Experts, google, International Pay Per Click Campaigns, Paid Search, small business, UK Yahoo Pay Per Click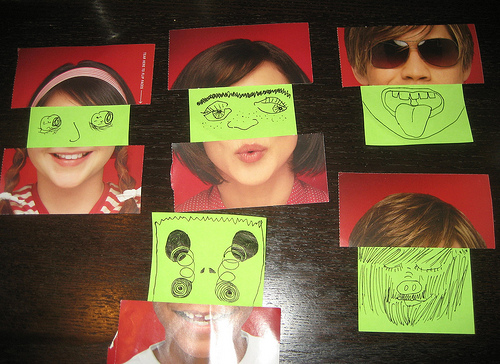 By Michael Coté on March 30, 2010
Is it time to stop worrying about software being "late"? Cloud-inspired software delivery muddles the idea of a fixed release date, making the concept of late software difficult to pin down.
Posted in Technology / Software | Tagged Agile, apple, Cloud, google, Google Reader, iPhone, iPhone 3G, Iron Triangle, Programming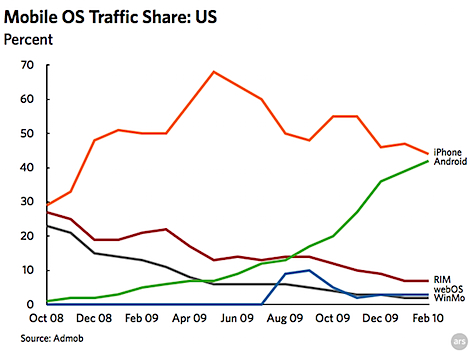 By Jeff Nolan on March 30, 2010
James wrote something yesterday that included this graphic: What caught my attention, as was the intention of the graphic, was the Android traffic number climbing from effectively zero to more than 40% in just a year and a couple of months. Obviously this was the intention of the graphic (note the green color of the […]
Posted in Business | Tagged AdMob, android, Blackberry, google, iPhone, mobile data, Smartphone, telcos, windows mobile, Wireless | 3 Responses
By Sandy Kemsley on March 30, 2010
Last night was DemoCamp 26: a forum for people to show off whatever they have to demo. It's a good way to network with the tech community in Toronto, and see emerging new applications often before they even launch. We started with a keynote from April Dunford on lean marketing, a topic that many of […]
Posted in Technology / Software | Tagged App Store, DemoCamp, Joomla, Movable Type, Twitter, TypePad, Website, wordpress

By Bob Warfield on March 30, 2010
I have had the unpleasant experience of being involved with or hearing quite a bit of the blow-by-blow associated with the replacement of a CEO at one company or another.  While I have not experienced the ultimate displeasure of being replaced myself (despite "ousted" rumors to the contrary!), I can tell you that it is a […]
Posted in Business | Tagged Board of Directors, BOD, Business plan, CEO, Helpstream, Start Up, venture

By Jason Busch on March 30, 2010
It makes my Spend Management blood boil to read this article in the Washington Times about how some Federal employees have taken it upon themselves to define their own travel policies and stick tax payers with the bill. If true, some of the suggestions in here feel downright criminal. To frame the context of the […]
Posted in Business | Tagged Air travel, Carbon footprint, government, luxury, Rearden Commerce, Spend Management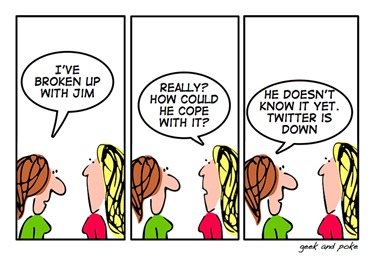 By Zoli Erdos on March 30, 2010
It used to be Yahoo, MSN or AOL chat. Then Skype took over – it is my default IM system now, despite it's obvious flaws. But nowadays the fastest way to reach most of my contacts is DM on Twitter.  That is if I can remember their Twitter account names. While @firstnamelastname has become a […]
Posted in Technology / Software | Tagged AOL, Instant messaging, MSN, skype, Twitter, Yahoo

By Paul Greenberg on March 30, 2010
Bob Thompson raised a very important question in Jeremiah Owyang's Social CRM Pioneer group (public), which I suggest anyone who reads this post, should join. "Can You 'Do' Social CRM without Social Media/Networks?" It is a serious addition to the continued discussion that is going on enmasse throughout the social sphere about what Social CRM […]
Posted in Featured Posts, Trends & Concepts | Tagged Altimeter Group, Business Models, Business practices, CRM, Customer Experience, Facebook, greenpeace, Social CRM, Social Media, social networks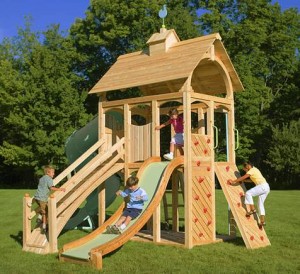 By Niel Robertson on March 29, 2010
One question that comes up frequently from Trada's small business customers is how much is enough data to make decisions about their paid-search campaign. This is an understandable question as small businesses want to know that every penny they spend is being spent in the most efficient manner possible. After spending $500, do they have […]
Posted in Featured Posts, Trends & Concepts | Tagged advertising, Click Volume, Conversion Rate, Long Tail Keywords, Paid Search, Search Campaign, Trada