Archives by date
You are browsing the site archives by date.
By Charlie Wood on April 2, 2010
In a posts titled The Kids are Alright, John Gruber quotes a bunch of people complaining that the iPad isn't a hacker playground. Cory Doctorow complains that you can't open it up. Alex Pane frets kids with iPads won't grow up to become programmers. Mark Pilgrim dispairs that Apple is trying to stunt his kids' […]
Posted in Trends & Concepts | Tagged apple, Atari 2600, BASIC, iPad, Mac Mini, Macintosh | 1 Response

By Zoli Erdos on April 2, 2010
I know, it's crazy to talk about the JooJoo (formerly known as CrunchPad) a day before the iPad is released.  But the majo gadget blogs do, having received a test unit – and that in itself is a bit of a PR coup for JooJoo.  They should enjoy it while it last.   Too bad it […]
Posted in Business | Tagged App Store, apple, brands, customer service, Dell, FusionGarage, iPad, JooJoo, Technical support | 1 Response

By Jason Busch on April 2, 2010
Over a Belgian ale at my local low-budget yet high-end gastropub in Chicago (Hopleaf) last week, I caught up with my good friend Kevin Brooks. Kevin is an extremely forward-thinking fellow when it come to contemplating where the procurement sector is going and what organizational priorities will be. And he's usually — except when he's […]
Posted in Business, Featured Posts | Tagged Management consulting, McKinsey, McKinsey & Company

By Phil Wainewright on April 2, 2010
Many customers are willing to pay up to three years in advance for SaaS contracts, which can make a huge difference to the vendor's bank balance. But what are the potential pitfalls?
Posted in Business, Featured Posts | Tagged Business Model, Business Models, Cloud Computing, Contract, Customer Experience, netsuite, Operational Accounting, Revenue, RightNow Technologies, SaaS, salesforce.com, Service level management, software as a service, software licensing, Venture Capital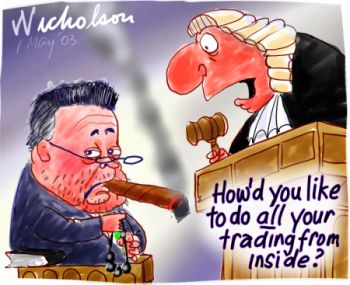 By Jason Busch on April 2, 2010
A colleague sent me a link to an article last week about an insider trading scandal involving both a CPO and his/her spouse. The CPO will go unnamed in this context because it's not relevant to the general issue at hand. Still, the issue of ethics and integrity in procurement, finances, outsourcing and shared services […]
Posted in Business | Tagged Chief procurement officer, CPO, ibm, Insider trading, McKinsey & Company, scandal, SEC