Archives by date
You are browsing the site archives by date.
By Sadagopan on July 13, 2010
For a long time, it is an almost universally held view that a very wide majority of established big companies are slow innovators – while these were very disciplined in their execution , their ability to keep making game changing innovations were suspect. The innovation ethos inside large enterprises remains a goal worthy of pursuit. […]
Posted in Trends & Concepts | Tagged Big Shift, Business, Business Model, Emerging Models, Institutional Innovation, John Hagel, John Seely Brown, Management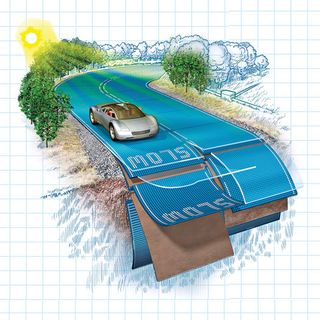 By Vinnie Mirchandani on July 13, 2010
"Each 12-by-12-foot Solar Roadway panel would produce about 7,600 watt-hours a day, based on an average of four hours of sunlight. At that rate, a one-mile stretch of four-lane highway could power about 500 homes. "If we could ever replace a…
Posted in Trends & Concepts | Tagged Electricity generation, Homes, Restaurants..., Smart Autos, Solar roadway, Sports
By Brian Sommer on July 13, 2010
Image via Wikipedia Last week, I discussed the Booz & Co./A.T. Kearney merger that didn't go through and why deals like that are sometimes problematic. This week, we learn that Hewitt is being acquired for $4.9 billion by AON. The Wall Street Journal reports that: – Deloitte LLP is looking for acquisitions – PriceWaterhouseCoopers LLP […]
Posted in Business | Tagged A. T. Kearney, consolidation, Consulting, deloitte, Mergers & Acquisitions, PriceWaterhouseCoopers, Wall Street Journal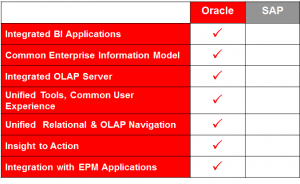 By Merv Adrian on July 13, 2010
Oracle is not first in BI, and wants to change that – that was the clear message of a well executed, multi-site "real plus virtual" event with top executives showing off the result of a multi-year effort to rationalize and integrate a set of leading but overlapping components into a seamless suite. Oracle Business Intelligence […]
Posted in Business | Tagged analytics, BAO, BI, business intelligence, Business Objects, data integration, Data Warehousing, Essbase, Forrester, gartner, Goldengate, HyperRoll, ibm, microsoft, MIcroStrategy, MOLAP, OBIEE, OLAP, oracle, predictive analytics, Research Industry, ROLAP, sap, SAS, Software infrastructure, software licensing, Sybase, TimesTen, TM1, ULA, Vendor image and communications
By Sandy Kemsley on July 13, 2010
Those of you who have met me in person have probably seen my business cards: plain on the front, with the necessary information, and a Hugh MacLeod cartoon on the back: These StreetCards cards have served me well for a couple of years, but as my current stock declined, I thought it was time for […]
Posted in Trends & Concepts | Tagged Business card, Card stock, Facebook, Flickr, Printing, SmugMug, Twitter
By Josh Greenbaum on July 13, 2010
It's cloud's illusions I recall, I really don't know clouds at all….. One of the primary devils in the details with cloud computing will always be found in the chase for margins, and this is becoming abundantly clear for Microsoft's market-leading partner ecosystem, gathered this week in Washington, DC. for their Worldwide Partner Conference.
Posted in Business, Featured Posts, Technology / Software | Tagged Business ByDesign, ByD, Cloud Computing, cloud economics, microsoft, Microsoft Azure, Microsoft Dynamics, profit, Revenue, saas economics, sap, Steve Ballmer, xrm | 1 Response
By Sandy Kemsley on July 13, 2010
Although we didn't have a chance for a demo, I had a quick briefing with Greg Carter, Metastorm's CTO, on the announcements that they made today. M3 Collaborative Modeling We discussed M3, their cloud-based collaborative process modeling tool. This is one of the first BPA/BPM offerings that I've seen on the Microsoft Windows Azure platform, […]
Posted in Technology / Software | Tagged BPA, BPM, Business process, Cloud, mashups, Metastorm BPM, Metastorm M3, social software | 2 Responses
By Paul Greenberg on July 13, 2010
Interesting….very interesting. If you remember a couple of years ago, I did my Companies to Watch 2009 posts – and, if you remember (and I'm sure  you don't. Why would anyone but me remember? And I barely do), I included Cisco as a company to keep eyeballing. Here are some excerpts of what I said: […]
Posted in Technology / Software | Tagged Cisco, Cisco Systems, collaboration, e20, Enterprise 2.0, SCRM
By Jason Busch on July 13, 2010
I'm sorry, but I could care less about the moral dilemma of pushing out payment terms, as many paint the payment term rationalization argument. I personally believe all that matters is the business dilemma of whether or not such logic makes sense based on the balancing act of improving working capital and keeping your suppliers […]
Posted in Business, Featured Posts | Tagged Business, Dell, Invoice, payment terms, Working capital
By Jason Busch on July 13, 2010
In the first post in this series looking at Ariba Discovery, I provided a high-level overview of what the Discovery marketplace solution provides. In this post, I'll share some details about the traction Ariba is receiving with the solution. And in the final post coming up, I'll provide a walkthrough of the application and how […]
Posted in Business | Tagged Ariba, Ariba Discovery, marketplace | 1 Response