Archives by date
You are browsing the site archives by date.

By Evangelos Simoudis on August 18, 2010
I was on the road for almost two weeks.During the early part of last week I was in Vail to attend Pacific Crest's annual technology conference.I'll consolidate my notes around three topics of personal and investment interest that were covered in the conference: SaaS, online advertising and future technology trends.This week I'll cover SaaS and […]
Posted in Featured Posts, Trends & Concepts | Tagged Cloud Computing, conferences, SaaS | 1 Response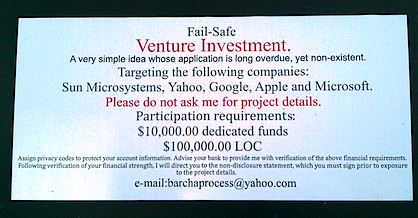 By Jeff Nolan on August 18, 2010
A few days ago I was walking down an otherwise uninteresting street and I see this sign soliciting investment. Nothing out of the ordinary but the "don't ask me…" warning was a little odd, as well as the NDA before the person will tell you anything about it… but no, the most interesting aspect of […]
Posted in Trends & Concepts | Tagged Humor, investment, Solicitation

By Susan Scrupski on August 18, 2010
Photo credit: Alex Dunne It's that time again.   Last year was our inaugural celebration awarding a Council member, "Internal Evangelist of the Year."  (#IEoY09) We created this award to recognize an individual who has gone above and beyond the #dayjob requirements and truly has been an inspiration for the company leading a radical (and most […]
Posted in Trends & Concepts | Tagged 2.0 Adoption Council, adoption, conferences, e2conf, enterprise2.0, Enterprise2.0Conference, IEoY10, social business, socialbusiness, The 2.0 Adoption Council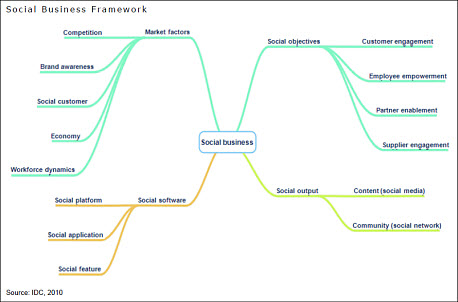 By Michael Krigsman on August 18, 2010
Most organizations are rife with information silos and internecine warfare, all of which leads to screwed-up projects. Social business software can help.
Posted in Trends & Concepts

By Jason Busch on August 18, 2010
There are certain times even ardent libertarians would agree that a bit of government intervention is probably not such a bad thing. Such is the case when it comes to maintaining the integrity of the pharmaceutical supply chain. U…
Posted in Business | Tagged China, FDA, Food and Drug Administration, pharma supply chain, Pharmaceutical drug, supply chain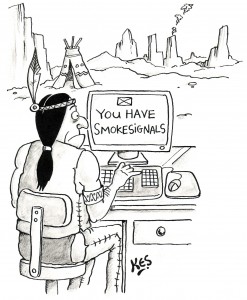 By Jason Busch on August 18, 2010
In the first two posts in this series (Part 1 and Part 2), we examined some of the trends highlighting the movement to contingent workforces as well as how the current state of the economy ties to just that — not to mention some …
Posted in Business | Tagged contingent workforce, Employment, Human resources, Independent contractor, recession