Archives by date
You are browsing the site archives by date.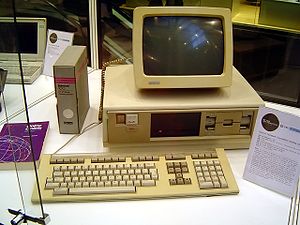 By Josh Greenbaum on August 26, 2010
Image via Wikipedia Fellow Enterprise Irregular Phil Wainright has commented on my recent post regarding multi-tenancy with a well-considered rebuttal that I believe deserves its own rebuttal in turn. Here it is: As someone old enough to remember the DEC Rainbow and other also-rans, I enjoyed the trip down memory lane. However, at the risk […]
Posted in Featured Posts, Technology / Software | Tagged DEC Rainbow, ibm, Mac OS, multitenancy, SaaS, software as a service, tenancy debate, Wintel | 11 Responses

By Phil Wainewright on August 26, 2010
If you believe the private cloud vendor spin that simply by including certain features in common you'll capture all the advantages of cloud computing, you're making the same mistake that enterprises made in the 1980s when they invested in DEC Rainbow PCs and IBM PS/2 Microchannel.
Posted in Featured Posts, Technology / Software | Tagged Cloud Computing, DEC Rainbow, multitenancy, SaaS, single tenancy, tenancy debate | 2 Responses

By Bob Warfield on August 26, 2010
Something about the "Golly gee whiz this innovation is great" tone of Alex Howard's article about the NASA IT Summit really rubbed me the wrong way.  It was probably that there wasn't really innovation that had anything to do with NASA or space travel, despite NASA and Alex's best efforts to make it seem wonderful. […]
Posted in Business, Trends & Concepts | Tagged NASA, SaaS, Space, Space exploration, technology

By Phil Fersht on August 26, 2010
If you happened to be listening to National Public Radio yesterday afternoon, you would have heard an interesting discussion on the rise of homeshoring on their All Things Considered afternoon show
Posted in Trends & Concepts | Tagged BPO, Innovation in Outsourcing, Sourcing Best Practises, The Future of Outsourcing