Archives by date
You are browsing the site archives by date.

By Bob Warfield on March 17, 2011
In case you've missed it, there's a big Kerfluffle on right now over whether SaaS companies should share a product roadmap with customers or not.  The charge against is led by Kashflow CEPO Duane Jackson, who says sharing your roadmap is flawed because: – Reduces agility – Creates expectations that make it harder to delight […]
Posted in Business, Featured Posts | Tagged Kashflow, marketing, Product roadmap, small business, Technology roadmap | 6 Responses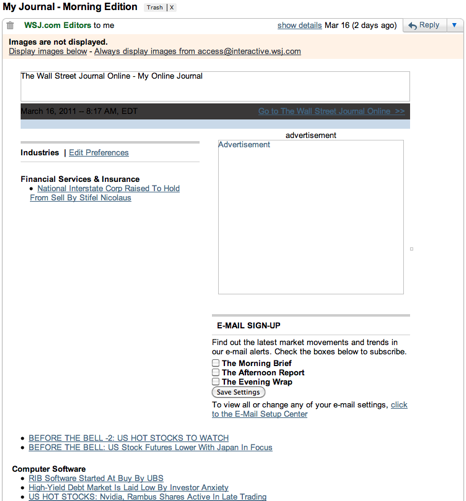 By Basab Pradhan on March 17, 2011
I get most of my reading done via twitter. I follow a bunch of smart people who essentially filter all that's out there to what is truly worthy of reading. My feed reader is getting less and less airtime nowadays. But there are some bloggers who don't tweet their posts so one has to go […]
Posted in Business | Tagged Gigaom, Google Reader, marketing, Newsletter, Wall Street Journal, WSJ

By Michael Krigsman on March 17, 2011
Recorded audio interview discussing IT success and failure from a CIO perspective. Includes discussion of collaboration and knowledge sharing.
Posted in Trends & Concepts | Tagged Asuret, Enterprise Irregulars, IT Failure, Management consulting, Michael Krigsman, Project Failure
By Sandy Kemsley on March 17, 2011
TweetThe term "knowledge management" has been used – and misused – in many different ways over the years, but I agree with Jonathan Reichental's definition of it as the identification, retention, effective use and retirement of institutional insight. I really, really agree with his further insights about knowledge management in the age of social media: […]
Posted in Trends & Concepts | Tagged BPM, Business process management, modeling, social software