Archives by date
You are browsing the site archives by date.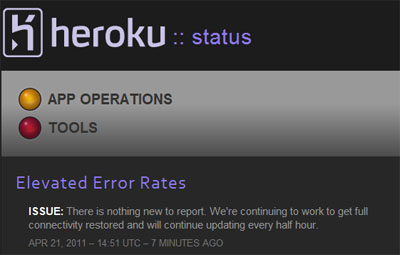 By Bob Warfield on April 21, 2011
As I write this, Amazon is having a major East Coast outage that has affected Heroku, Foursquare, Quora, Reddit and others.  Heroku's status page is just the sound of a lost sheep bleating repeatedly for its mother in heavy fog.  What's a poor sheep to do about this problem anyway?  After all, isn't a Cloud-based […]
Posted in Featured Posts, Technology / Software | Tagged Amazon, Amazon Web Services, apple, Cloud, Cloud Computing, data center, heroku, Quattro Pro, Quora, Reddit, strategy | 1 Response

By Michael Krigsman on April 21, 2011
New research describes a highly negative situation in which most survey respondents expect their projects to fail before even starting!
Posted in Business | Tagged Chief information officer, Information technology, IT Project Failures, Survery

By Vinnie Mirchandani on April 21, 2011
Fred Reichheld coined the term "good profits" in his book Ultimate Question. His point was in pursuit of financial goals we often focus on certain fees (and related profits) which actually turn off customers and lead to dissatisfaction and worse. Lord knows we have plenty of examples of "bad profits" at airlines, banks and telcos. […]
Posted in Featured Posts, Trends & Concepts | Tagged customer choice, ibm, oracle, Revenue, sap | 3 Responses