Archives by date
You are browsing the site archives by date.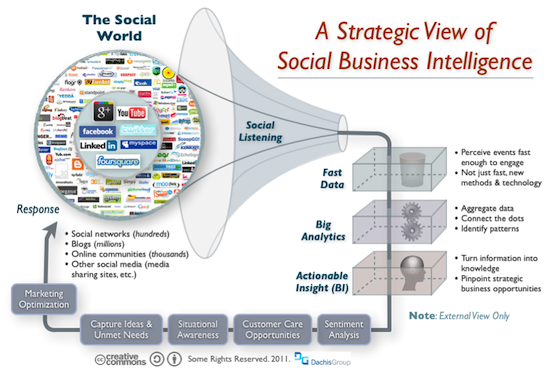 By Dion Hinchcliffe on September 1, 2011
Recently I've been tracking the growth of social analytics and the means of delivering well on it. Connecting it to the needs of the business is the next step beyond basics of collating, aggregating, and identifying patterns in what the world is doing that affects your organization. On ZDNet recently, I explored the rapidly growing trend of big data. Collectively, big data represents a set of highly innovative new ways that companies are developing to distill value from the sheer scale, richness, and complexity of today's vast networks of people and their data, of which the Internet is just the biggest example. It is social media in particular, however, where big data and business value intersect.
Posted in Featured Posts, Technology / Software | Tagged actionable insight, aggregation, Analysis, big analytics, Blog Post, CIO, CMO, Community, customer care, Data mining, Facebook, fast data, innovation, Insight, knowledge, listening, marketing, monitoring, operations, optimization, patterns, sentiment, social analytics, social BI, social business, Social Business Intelligence, Social CRM, Social Media, trends, trendspotting, Twitter | 5 Responses
By Denis Pombriant on September 1, 2011
One of the more announcements Marc Benioff off made in his Day 1 Keynote was database.com.  The news is that Salesforce is now enabling its customers to store their data on their own hardware inside their data centers. There is a need or at least a demand for this capability as many large enterprises and […]
Posted in Technology / Software | Tagged #DF11, AppExchange, benioff, Cloud Computing, CRM, data.com, Dreamforce, dreamforce11, salesforce.com | 1 Response