Archives by date
You are browsing the site archives by date.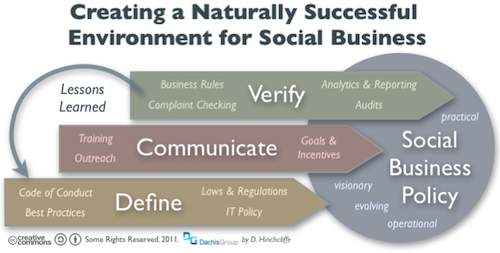 By Dion Hinchcliffe on September 23, 2011
Recently I've been exploring the best ways for companies to establish their workers successfully in the use of social media, both internally and externally to their organizations. Driving adoption and effective uptake of social tools varies rather widely in how easy and quickly it is to for a given business to realize. For example, this process is the most challenging for regulated industries as I deconstructed at length on ZDNet this week. Yet it's the same issue for all firms: How do we quickly and effectively deal with issues surrounding risk, control, and trust so that we can get to the good part and reap the rewards of social media engagement?
Posted in Business | Tagged Blog Post, social media policy

By Vinnie Mirchandani on September 23, 2011
Last week I blogged on the New Florence innovation blog about the Startup Genome Project, a benchmark of hundreds of startups and why they fail or succeed. One of their findings was "Most successful startups pivot at least once. Startups that pivot once or twice raise 2.5x more money, have 3.6x better user growth, and […]
Posted in Business, Featured Posts | Tagged IT, Pivot point, startups