Archives by date
You are browsing the site archives by date.
By Denis Pombriant on October 26, 2011
At Dreamforce Zuora, like many other emerging companies allied with Salesforce.com, decided to hold a user group meeting.  As long as the customers jointly held by Salesforce and Zuora were in town the logic went, why not have them in for a day of education, listening and a pep talk form the boss. It was […]
Posted in Business, Featured Posts | Tagged CRM, Dave Duffield, erp, oracle, salesforce.com, sap, workday, Workday Rising, Zuora
By Michael Krigsman on October 26, 2011
Yet again, we open the thorny debate of enterprise vs. consumer software.
Posted in Featured Posts, Technology / Software | Tagged enterprise software, Expensify, netsuite, Robert Scoble, workday | 30 Responses
By Susan Scrupski on October 26, 2011
Once again, I had the great pleasure to work with my colleagues on an XPLANATiON with our Social Business Council members.  We interviewed a core group of our members to identify the attributes that comprise the whole of the socially optimized business.  I think you will agree, the results are fabulous. Where are you on […]
Posted in Trends & Concepts | Tagged Enterprise 2.0, social business, social business design, Social Business Intelligence, Social CRM, socially-optimized business, Trends Research
By Michael Fauscette on October 25, 2011
Today, for the third year in a row, IDC published the Innovative Software Companies Under $100M to Watch, in an effort to recognize innovation in the software around specific hot trends. The selection for the Application Software vendors was conducted…
Posted in Technology / Software | Tagged commerce, Company, innovative, socbiz, Social, socialytics, technology, Technology / Software | 1 Response
By Jason Busch on October 25, 2011
I used to write from time-to-time on the ways that the provider community can get the attention of the more busy (and senior) bloggers and analysts. Many of these approaches are now old hat (e.g., focus on conversations outside of form…
Posted in Business | Tagged analyst relations, Public relations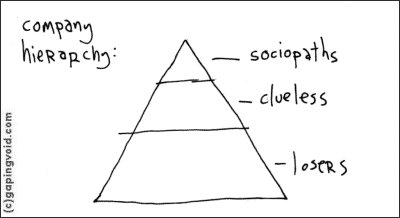 By Sig Rinde on October 25, 2011
It all started by John Tropea's post, then the discussion moved onto Google+. My first comment was "I'm still puzzled why all still accepts "organisational hierarchies" as a given… after all they're nothing but frameworks for work processes, of the push kind mostly, based on technology like quills, whips and shoe leather." As always, succinctly […]
Posted in Featured Posts, Trends & Concepts | Tagged enterprise software, Management
By R "Ray" Wang on October 25, 2011
The Acquisition Machine Heads To The Public Cloud Users gathered at the Customer Summit 2011 at the Broadmoor Hotel woke up to the shocking announcement that Oracle (NASDAQ: ORCL) announced a $1.43B acquisition of leading SMB CRM vendor RightNow Technologies (NASDAQ: RNOW) today.  According to Thomas Kurian, "Oracle is moving aggressively to offer customers a […]
Posted in Business, Featured Posts | Tagged acquisition, acquisitions, Apps Strategy, Art Technology Group, ATG, CIO, Cloud, Cloud Computing, Cloud options, CMO, Constellation Research, CRM, customer engagement, Customer Experience, customer service, customer service; -business, Customer Support, enterprise applications, enterprise apps, Enterprise Business Apps, enterprise software, mergers, Mergers And Acquisitions, News Analysis, oracle, Oracle CRM On Demand, Oracle Fusion Apps, Oracle Fusion Middleware, R "Ray" Wang;, R "Ray" Wang;, RightNow, RightNow Technologies, rwang0, social business, Social Business Software, Social CRM, social technologies, vendor strategy | 2 Responses
By Phil Wainewright on October 25, 2011
When Oracle announced its new Public Cloud earlier this month, it promised a "complete suite" of applications ranging across financials, human capital, supply chain, procurement, CRM and much more. At the time it seemed the applications would be from Oracle's existing portfolio, but today a new strategy became clear. With the acquisition of early SaaS […]
Posted in Business, Featured Posts | Tagged Greg Gianforte, netsuite, oracle, RightNow, RightNow Technologies, salesforce.com, software as a service
By Bob Warfield on October 25, 2011
Less than you'd think, probably, but enough so it's worth hashing over. It means Oracle will spend less and less time running down the Cloud and more and more time monetizing it for their own coffers.  That's no surprise.  Consider this the final signal that the Cloud is here to stay and it's mainstream.  In […]
Posted in Business, Featured Posts | Tagged SaaS
By Brian Sommer on October 25, 2011
What's behind the deals Oracle (ORCL) recently announced with Endeca (private) and RightNow (RNOW)? Here's my quick back of the napkin math regarding these two transactions: re: the RNOW deal. RightNow is a SaaS CRM provider. This deal will be for $1.5 billion and involve 2000 customers according to Wikipedia and other sources. That works […]
Posted in Business