By Anshu Sharma on August 4, 2017
There's a new wave of reporting focused on the post app era. The Recode announces "App Boom is Over". Quartz points out how most users never download any apps. Let me be very clear: The App Boom is Not Over. The reporting on this topic made me think of an imagined Yogi Berra quote. Nobody downloads apps […]
Posted in Featured Posts, Technology / Software | Tagged apps
By Michael Fauscette on February 1, 2017
For many years, like most analyst and/or analyst firms I know, I've published some sort of annual "predictions" at the start of the new year.  This year, in my new role (I can still say "new" for the rest of January, my 1 year anniversary isn't till tomorrow) I've put together a small team (Rob […]
Posted in Featured Posts, Technology / Software, Trends & Concepts | Tagged AI, Analysis, analytics, apps, AR, Artificial intelligence, Big Data, Business Models, business modernization, Cloud, Cognitive Computing, collaboration, conversational systems, dasta clouds, data, decision systems, digital marketing, digital platforms, Digital Transformation, iaas, intelligent applications, intelligent security, intelligent things, marketing, Marketplaces, micro-targeting, networks, PaaS, platforms, SaaS, security, technology, Technology / Software, top tech trends, top trends 2017, trends, ui, usability, VR
By Denis Pombriant on June 25, 2015
Like driving on the interstate, you can cross boundaries without noticing but after a while you just know you aren't in Kansas anymore. I had one of those moments the other day talking about mobile technology. It occurred to me that calling what we do on devices "mobile computing" was just wrong, at least linguistically, […]
Posted in Featured Posts, Technology / Software | Tagged apps, CRM, mouseless, salesforce, Service Cloud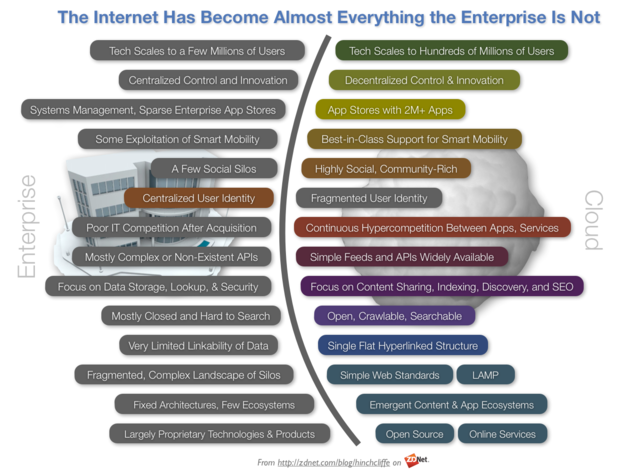 By Dion Hinchcliffe on November 3, 2014
It's no longer fashionable to criticize enterprise IT as it once was. That's because the Internet has definitively won the competition and is leading the way in tech innovation. But for proactive organizations, it doesn't have to be that way.
Posted in Featured Posts, Technology / Software | Tagged apps, Big Data, Cloud, Cloud Priorities, Consumerization, CXO, Data Centers, Data Management, Emerging Tech, enterprise software, innovation, IT Policies, IT Priorities, Leadership, Networking, servers, Technology / Software
By Tom Raftery on October 19, 2014
Welcome to episode thirty four of the Technology for Good hangout. In this week's episode our guest was SalesForce SVP of Strategy, John Taschek. John and I are both longtime members of the Enterprise Irregulars, but this was the first time John and I had had a conversation outside of email! Some of the more […]
Posted in Technology / Software | Tagged #df14, apps, climate, Comms, Electricity 2.0, GreenMonkTV, Hardware, Internet of Things, IoT, John Taschek, mobility, Open source, Privacy, salesforce.com, security, Sustainability, wearables
By Michael Fauscette on August 12, 2013
A Salesforce.com announcement today on product packaging got me thinking about the way cloud vendors package and sell products. Actually I guess a better way to say that would be, I'm thinking about how customers want to consume cloud apps. The way we think about apps is in general, colored by a lot of legacy […]
Posted in Featured Posts, Technology / Software | Tagged applications, apps, bundle, Cloud, Customer, CX, sales, salesforce.com, service, SFDC, Technology / Software, value
By Michael Fauscette on January 2, 2013
One of the byproducts of the Internet is a phenomenon that is impacting all sorts of things, the trend of breaking things into smaller and smaller pieces, dramatically changing the subsequent consumption models. The ability to connect everything using the Internet opened up new business / economic models, new ways of working, new ways to […]
Posted in Featured Posts, Trends & Concepts | Tagged apps, commerce, Consumption, internet, investing, process, SaaS, socbiz, Stock trader, work, zipcar | 1 Response
By Michael Fauscette on August 29, 2012
I spent the first part of this week at VMworld, mostly catching up on two acquired products, SocialCast and Zimbra, as well as the Horizon product line. I continue to be impressed with the feature set and depth of the…
Posted in Business | Tagged applications, apps, ibm, oracle, salesforce.com, SCRM, socbiz, Social, social business, Socialcast, Technology / Software, VMware
By Dion Hinchcliffe on August 24, 2012
As smart mobile devices and social media have become first-order ways in which we interact with the world and each other, they are becoming intertwined in ways that will have far-reaching impact.
Posted in Featured Posts, Trends & Concepts | Tagged android, apps, iOS, IT Priorities, Smartphones, Social Media, Social network, Tablets, Tech Industry
By Dion Hinchcliffe on August 4, 2011
While app stores have become enormously popular with users, particularly on mobile devices, they are now moving to the enterprise. The new Jive Apps Market provides an interesting approach that combines apps with direct integration into the flow of a …
Posted in Featured Posts, Technology / Software | Tagged App Store, apps, Jive