business process outsourcing
By R "Ray" Wang on August 5, 2015
Constellation's analysis of Sikka and his executive team's first year shows significant progress in not only the structural transformation, but also the market perception of Infosys.
Posted in Business, Featured Posts | Tagged @vsikka, Apps Strategy, BPO, business process outsourcing, CEO, Chief executive officer, CIO, Cloud, Constellation Research, enterprise applications, enterprise apps, Enterprise apps strategy, enterprise software, India, Indian IT Services Firms, Infosys, Infosys Technologies Ltd., it Services, IT services firms, IT Strategy, N R Narayana Murthy, News Analysis, R "Ray" Wang;, rwang0, sap, Software Insider, SoftwareInsider, vendor strategy, Vishal Sikka
By Jason Busch on May 1, 2015
Procurement organizations operating in small and middle market environments do not have the luxury of time – in certain cases there is not even a formal function. Supply Chain Digest recently explored the subject, quoting a piece from Redactive's Supply Business quarterly featuring the thoughts of Dave Nellist, who runs procurement for a New Zealand […]
Posted in Business | Tagged Aberdeen Group, Accenture, business process outsourcing, procurement, supplier risk management, supply chain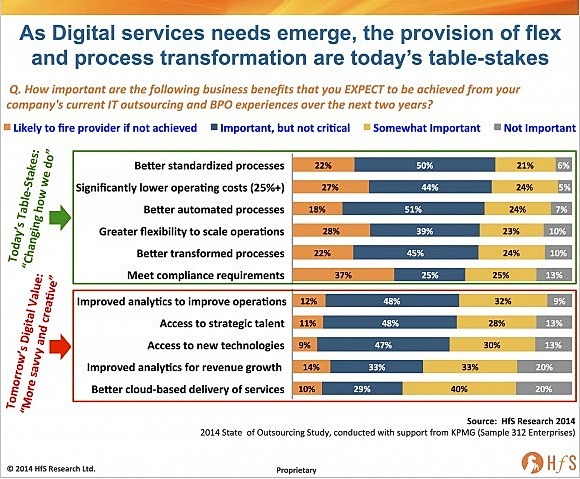 By Michael Krigsman on July 25, 2014
Changing technologies, client expectations, competition and an evolving market environment have forced business process outsourcers to adapt. Here's what you need to know.
Posted in Business, Featured Posts | Tagged BPO, business process outsourcing, HfS, HfS Research, IT service management | 1 Response
By R "Ray" Wang on July 23, 2014
 Global Partnership Signals Expansive View Of Digital Business Disruption On July 15th, 2014 IBM's Ginni Rometty and Apple's Tim Cook announced in Cupertino, CA a strategic partnership to transform enterprise mobility (see Figure 1).  IBM has committed up to 100,000 employees to the initiative.  Apple has not disclosed its investment effort.  The announcement, made at […]
Posted in Business, Featured Posts | Tagged 2014, Alliances, analytics, apple, Apple Care, Apps Strategy, Big Data, Big Data Business Models, BigData, BPO, Business Models, business process outsourcing, CDO, CEO, Chief Customer Officer, Chief Digital Officer, Chief information officer, Chief Information Security Officer, Chief Security Officer, Chief Technology Officer, CIO, Cloud, Cloud Computing, CoIT, CoIT and the New CSuite, Constellation Research, CTO, customer service, Digital Business, Digital Disruption, Digital Strategy, Digital Transformation, DigitalBiz, digitaltransformation, disruptive business models, enterprise applications, enterprise apps, Enterprise apps strategy, enterprise software, enterprise strategy, ibm, IBM Global Business Services, IBM Global Services, IBM Mobile First, ibm software group, it Services, IT services firms, mobile, Mobile Biz, mobile device management, mobile enterprise, Mobile Management, Mobile OS, Mobile strategy, mobility, News Analysis, partner ecosystems, partners, partnerships, R "Ray" Wang;, rwang0, Software Insider, SoftwareInsider, strategy, vendor strategy | 1 Response
By R "Ray" Wang on June 12, 2014
With heavy contributions from Sachin Gosavi, VP of South Asia Infosys' First Outsider CEO Lands From Silicon Valley On June 12th, 2014, Infosys announced that Dr. Vishal Sikka as the Chief Executive Officer and Managing Director (CEO & MD) of the company effective August 1, 2014.  Dr. Sikka will be inducted as a whole-time […]
Posted in Business, Featured Posts | Tagged @vsikka, Apps Strategy, BPO, business process outsourcing, CEO, Chief executive officer, CIO, Cloud, Constellation Research, enterprise applications, enterprise apps, Enterprise apps strategy, enterprise software, India, Indian IT Services Firms, Infosys, Infosys Technologies Ltd., it Services, IT services firms, IT Strategy, N R Narayana Murthy, News Analysis, R "Ray" Wang;, rwang0, sap, Software Insider, SoftwareInsider, vendor strategy, Vishal Sikka, vishalinfy
By R "Ray" Wang on February 18, 2014
Recent Oracle vs Rimini Street Ruling Is About Customer Software License Rights Not Third Party Maintenance On February 13th, 2014, the United States District Court , District of Nevada Judge Larry Hicks issued a partial summary judgment in the Oracle vs Rimini Street Case. Here's the executive summary to key questions about the ruling*: Is […]
Posted in Business | Tagged 3PM, 3rd party maintenance, Apps Strategy, best practices, BPO, Business process, business process outsourcing, Chief information officer, CIO, Cloud, Cloud Bill of Rights, Cloud BPO, Constellation Research, customer bill of rights, enterprise applications, enterprise apps, Enterprise apps strategy, enterprise software, Enterprise Software Licensee Bill of Rights, enterprise strategy, IT budgets, IT Strategy, license policy, maintenance, maintenance fees, News Analysis, next gen CIO's, oracle, Oracle EBS, PeopleSoft, procurement, R "Ray" Wang;, rimini street, rwang0, sap, Seth Ravin, siebel, Siebel Systems, software bill of rights, Software Insider, software licensing, software licesing and pricing, software maintenance, software ownership, software ownership lifecycle, SoftwareInsider, Third Party Maintenance, user strategy, vendor strategy, vendor threats
By R "Ray" Wang on August 5, 2013
Infosys Puts Its Best Foot Forward Constellation attended Infosys' 2013 Global Analyst Summit from July 29th to July 30th in Boston.  Despite the below industry average growth of the previous year, conversations with key executives and top customers indicate an imminent shift.  In fact, Infosys has added 100+clients not including customers from Lodestone.  Retention is […]
Posted in Business | Tagged 2013, analyst event, Apps Strategy, BPO, business platforms, Business process, business process outsourcing, business process transformation, Chief information officer, Chief procurement officer, CIO, Cloud BPO, Cloud Computing, Constellation Research, enterprise applications, enterprise apps, Enterprise apps strategy, enterprise strategy, event report, India, Indian IT Services Firms, Infosys, Infosys Technologies Ltd., it Services, IT services firms, R "Ray" Wang;, rwang0, S. D. Shibulal, Software Insider, SoftwareInsider, vendor strategy
By R "Ray" Wang on September 10, 2012
Global outsourcing and Bangalore Infotech bellwether Infosys (NASDAQ:INFY), announced its agreement to purchase Zurich-based Lodestone Management Consultancy for $350M.  A quick analysis of the news reveals: Infosys strengthens its EMEA and SAP presence. Lodestone brings 850 employees which 750 are front line delivery personnel.  200 clients.   Lodestone's 200 clients span industries such as life […]
Posted in Business | Tagged acquisition, acquisitions, Business process, business process improvement, business process outsourcing, business process transformation, business solutions, Cloud BPO, Constellation Research, enterprise applications, enterprise apps, Enterprise apps strategy, enterprise software, enterprise strategy, Infosys, Infosys Technologies Ltd., it Services, IT services firms, Lodestone, mergers, Mergers And Acquisitions, News Analysis, Outsourcing, R "Ray" Wang;, rwang0, sap, Software Insider, SoftwareInsider, vendor strategy
By R "Ray" Wang on August 2, 2012
Marketing and Advertising Budgets Are The New Land Grab Constellation Research, Inc. predicts that the global advertising market (paid search, display, and classified) will hit $125B by 2015.   While IT budgets continue to stay flat, marketing budgets are up.  Warc's recent Global Marketing Index (GMI) entered positive territory in March 2012.  Consequently, the heat […]
Posted in Business, Featured Posts | Tagged $KANA, acquisition, acquisitions, adobe, analytics, Apps Strategy, B2B, B2C, best of breed, best practices, BI, Big Data, BigData, brand monitoring, Business Analytics, business intelligence, Business process, business process outsourcing, Chief Customer Officer, Chief information officer, Chief Marketing Officer, CIO, CMO, CoIT, Constellation Research, Consumerization of IT, CRM, CustExp, customer engagement, Customer Experience, customer relationship management, CXP, Dell, Digital Marketing Transformation, disruptive, disruptive technologies, Disruptive technology, Eloqua, engagement, Engagement Apps, enterprise apps, Enterprise apps strategy, enterprise class, enterprise software, From Transaction To Engagement, google, HubSpot, IT budgets, marketing, marketing agencies, Marketing Automation, Marketo, mergers, Mergers And Acquisitions, oracle, R "Ray" Wang;, rwang0, sales, sales force automation, salesforce.com, SAS, SAS Institute, social analytics, social business, Social Business Software, Social CRM, social marketing insights, socialytics, Software Insider, SoftwareInsider, Unica, user strategy, vendor strategy
By Basab Pradhan on April 26, 2012
From zero to over $50 billion in 20 years. That's been the meteoric rise of the Indian IT-BPO industry. For an industry of such significance, to India and the world, it is not very well understood outside the industry. Perhaps because it doesn't manufacture a physical product. Or perhaps because it is such a new […]
Posted in Business, Featured Posts | Tagged BPO, business process outsourcing, India, Offshore Services | 1 Response