By Phil Fersht on October 6, 2014
The world of work's just so much more interesting and rewarding today that it was even five years' ago
Posted in Business, Featured Posts | Tagged Analytics and Big Data, Business Process Outsourcing (BPO), Buyers' Sourcing Best Practices, Cloud Computing, Digital Transformation, Engineering & Supply Chain Outsourcing, Enterprise Irregulars, HfS Surveys: All our Survey Posts, HfSResearch.com Homepage, HR Strategy, IaaS and BPaaS, IT Outsourcing / IT Services, Knowledge Process Outsourcing & Analytics, mobility, PaaS, procurement, Robotic Process Automation, SaaS, social networking, Sourcing Change Management, Talent in Sourcing
By Esteban Kolsky on October 3, 2014
If you follow the conference circuit you'd know that Oracle held its user group conference this past week – Oracle Openworld 2014 was held at the Moscone Center between Sunday afternoon and — well, today officially. First off, I did not attend in person.  I watched the keynotes from the comfort of my home office […]
Posted in Business, Featured Posts | Tagged #oow14, Cloud Computing, Fear Mongering, gartner, Moscone Center, oracle, PeopleSoft, Uncategorized | 1 Response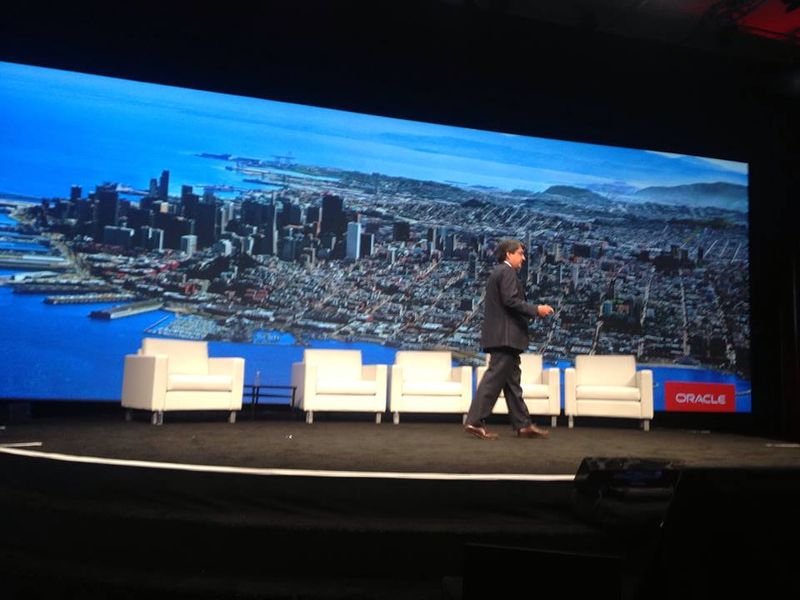 By Vinnie Mirchandani on October 1, 2014
Steve Miranda led an excellent session this morning on Oracle's growing hortizontal apps empire. Set on a stage with a sweeping view of downtown San Francisco and the Bay it reflected the expansive portfolio it has built and acquired. The session was crisp and covered wide ground in three parts – a) an update on […]
Posted in Featured Posts, Technology / Software | Tagged #oow14, Cloud Computing, JD Edwards, oracle, PeopleSoft | 1 Response
By R "Ray" Wang on September 29, 2014
 Oracle Intends To Dominate Cloud From Silicon To Software Amidst a packed standing room only crowd at Moscone North, Founder, Executive Chairman, and CTO, Larry Ellison took to the stage to clarify Oracle's company and cloud strategy.  Key points from his keynote include how Oracle is: Committing to full upward compatibility of all its database, […]
Posted in Business, Featured Posts | Tagged #oow14, analytics, Apps Strategy, Big Data, Big Data Business Models, BigData, bring-your-own-device, Business Analytics, CDO, CEO, CFO, Chief Digital Officer, Chief executive officer, Chief Financial Officer, Chief HR Officer, Chief information officer, Chief Information Security Officer, Chief Marketing Officer, Chief People Officer, Chief procurement officer, Chief Revenue Officer, Chief Sales Officer, Chief Security Officer, Chief Service Officer, Chief Technology Officer, CHRO, CIO, Cloud, Cloud BPO, Cloud Computing, Cloud options, Cloud Wars, CMO, CoIT, CoIT and the New CSuite, Constellation Research, Customer Experience, customer experience management, CXM, CXO, data streaming, Data to Decisions, Database, DBaaS, Digital Transformation, digitaltransformation, Engineered systems, enterprise applications, enterprise apps, Enterprise apps strategy, enterprise software, erp, event report, future of work, middleware, nalytics, Next Gen CXP, NextGenCXP, OOW, Oracle Fusion Apps, Oracle Fusion Middleware, Oracle Open World, Oracle Partner Network, Quips, R "Ray" Wang;, rwang0, Software Insider, Software Vendors, SoftwareInsider, user conference, user event, vendor strategy
By R "Ray" Wang on September 28, 2014
Oracle Doubles Down On Cloud Messaging Amidst A World Shifting To Digital Transformation Over 60,000 physical attendees from 145 countries gather in San Francisco for the 2014 Oracle Open World.  In addition, Oracle expects 2.1 million online attendees to join the live stream of one of the largest events in enterprise software.  Amidst the […]
Posted in Business, Featured Posts | Tagged #oow14, analytics, Apps Strategy, Big Data, Big Data Business Models, BigData, bring-your-own-device, Business Analytics, CDO, CEO, CFO, Chief Digital Officer, Chief executive officer, Chief Financial Officer, Chief HR Officer, Chief information officer, Chief Information Security Officer, Chief Marketing Officer, Chief People Officer, Chief procurement officer, Chief Revenue Officer, Chief Sales Officer, Chief Security Officer, Chief Service Officer, Chief Technology Officer, CHRO, CIO, Cloud, Cloud BPO, Cloud Computing, Cloud options, Cloud Wars, CMO, CoIT, CoIT and the New CSuite, Constellation Research, Customer Experience, customer experience management, CXM, CXO, data streaming, Data to Decisions, Database, DBaaS, Digital Transformation, digitaltransformation, Engineered systems, enterprise applications, enterprise apps, Enterprise apps strategy, enterprise software, erp, event report, future of work, middleware, nalytics, Next Gen CXP, NextGenCXP, OOW, Oracle Fusion Apps, Oracle Fusion Middleware, Oracle Open World, Oracle Partner Network, R "Ray" Wang;, rwang0, Software Insider, Software Vendors, SoftwareInsider, user conference, user event, vendor strategy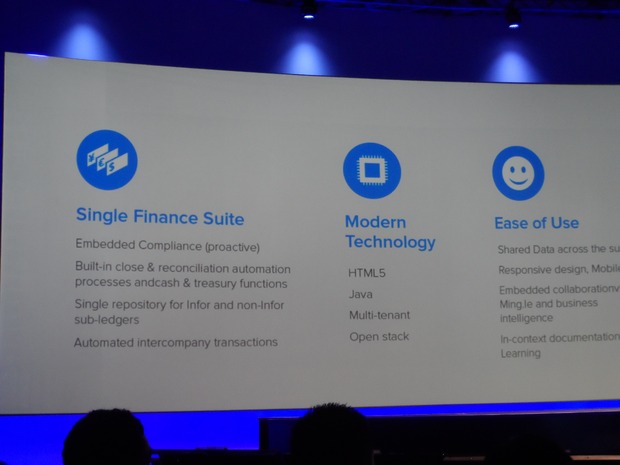 By Brian Sommer on September 24, 2014
Infor's suite of high-end cloud financial software products include a new user interface, in-memory database technology and more. CloudSuite signals a major shift in the application space. Will CIOs bite?
Posted in Featured Posts, Technology / Software | Tagged Charles Phillips, Cloud Computing, Cloud ERP, CloudSuite Financial, erp, Infor, netsuite, sap, workday
By Phil Fersht on September 17, 2014
Cognizant has upped the ante; now it's time for the ambitious providers to open their war-chests
Posted in Business, Featured Posts | Tagged Accenture, Analytics and Big Data, Business Process Outsourcing (BPO), Cloud Computing, cognizant, Enterprise Irregulars, Healthcare and Outsourcing, HfS Surveys: All our Survey Posts, HfS Surveys: State of Outsourcing 2014, HfSResearch.com Homepage, IaaS and BPaaS, ibm, IT Outsourcing / IT Services, Knowledge Process Outsourcing & Analytics, PaaS, SaaS, Sourcing Change Management, trizetto
By Phil Fersht on September 8, 2014
More than 850 data points were collected in Q1 and Q2 of 2014, covering 740 buyers, providers, and advisors/influencers of SAP Services. 31 providers of SAP Services were evaluated.
Posted in Business, Featured Posts | Tagged Analytics and Big Data, Business Process Outsourcing (BPO), Buyers' Sourcing Best Practices, Cloud Computing, Enterprise Irregulars, HfS Blueprint Results, IT Outsourcing / IT Services, sap, Thomas Mendel
By Phil Fersht on September 3, 2014
We've been calling it for seven years now, and finally the chickens are coming home to roost for the outsourcing business:  clients are genuinely walking away from outsourcing relationships which provide mediocre value. And, while some savvy providers are sensing the defections with a few notable re-bid wins of late, many still have their heads […]
Posted in Business, Featured Posts | Tagged Analytics and Big Data, Business Process Outsourcing (BPO), Buyers' Sourcing Best Practices, Cloud Computing, Enterprise Irregulars, HfS Surveys: All our Survey Posts, HfS Surveys: State of Outsourcing 2014, HfSResearch.com Homepage, IaaS and BPaaS, IT Outsourcing / IT Services, Knowledge Process Outsourcing & Analytics, Outsourcing Advisors, PaaS, Robotic Process Automation, SaaS, Talent in Sourcing
By R "Ray" Wang on August 28, 2014
 New Discovery Advisor Solution To Help Researchers Answer The Tough Problems Never Answered Before On August 28th, 2014 at the Museum of Art and Design in New York City, The IBM Watson group launched Discovery Advisor.  Mike Rhodin, SVP of IBM's Watson Group, welcomed the audience to the Age of Discovery (see Figure 1).  In […]
Posted in Featured Posts, Technology / Software | Tagged Age of Discovery, analytics, Apps Strategy, Augmented Humanity, BI, Big Data, Big Data Business Models, BigData, business intelligence, CDO, CFO, Chief Collaboration Officer, Chief Customer Officer, Chief Digital Officer, Chief executive officer, Chief Financial Officer, Chief HR Officer, Chief information officer, Chief Information Security Officer, Chief Marketing Officer, Chief People Officer, Chief procurement officer, Chief Revenue Officer, Chief Sales Officer, Chief Security Officer, Chief Service Officer, Chief Technology Officer, CHRO, CIO, clinical trial management software, Cloud, Cloud Computing, CMO, Cognitive Computing, Constellation Research, CTO, Customer Experience, data quality, Data to Decisions, Decision Management, Decision Services, digital, Digital Business, Digital Disruption, Digital Strategy, Digital Transformation, DigitalBiz, digitaltransformation, discovery, disruptive, disruptive business models, disruptive technologies, Disruptive technology, enterprise applications, enterprise apps, Enterprise apps strategy, enterprise software, ibm, IBM Watson, mike rhodin, MIT Sloan School of Management, News Analysis, R "Ray" Wang;, rwang0, Software Insider, SoftwareInsider, vendor strategy