By Dion Hinchcliffe on May 13, 2015
Far from maturing, the collaboration tool space is busier than ever evolving, branching out, and multiplying. But are organizations able to adopt so many different ways of working together?
Posted in Featured Posts, Technology / Software | Tagged collaboration
By Dion Hinchcliffe on May 6, 2015
While there are a number of key factors that help organizations create important new types of business results using enterprise social networks or online communities, leadership is almost always at the top of the list. There is no avoiding the fact that what executives and middle managers actually do when it comes to leadership with […]
Posted in Business, Featured Posts, Trends & Concepts | Tagged Altimeter Group, Analysis, Business Insights, Charlene Li, collaboration, communication, Facebook, Harvard Business Review, Leadership, Management, network leadership, Social network, strategy
By Jeff Nolan on March 31, 2015
Flipboard launched a private magazine capability this week. With today's release, there's an exciting new way for people with shared interests to unite on Flipboard: private group magazines. Now you can collect stories together, and comment on them, in a closed setting. At Ping I used a Flipboard magazine to collect industry news along with […]
Posted in Featured Posts, Technology / Software | Tagged collaboration, communication, enterprise, enterprise software, Flipboard, marketing
By Charlie Bess on March 24, 2015
Since I have moved to a new blog site I decided to update a post on my foundational beliefs about IT, the future and what it should mean to business. A number of years back, I posted that the real value for business is understanding unique and separating what was abundant from what was scarce and plan to take […]
Posted in Featured Posts, Trends & Concepts | Tagged Abundance, applications, Architecture, Attention engineering, Attention management, Attention span, collaboration, context, future, Privacy, scarcity, security, Strategic planning, trends, vision

By R "Ray" Wang on December 23, 2014
Digital Strategy From The Analysts At Constellation Research Constellation's year end checklist offers suggestions designed to enable you to take control of your digital strategy in 2015. Consider these actions to ensure you dominate digital disruption in the new year. 1. Matrix Commerce: Scrub your data By Guy Courtin When it comes to Matrix Commerce, […]
Posted in Business, Featured Posts | Tagged 2015, Apps Strategy, Augmented Humanity, Authentic, Authentic Business, best of breed, best practices, Big Data, Big Data Business Models, BigData, bring-your-own-device, Business Analytics, business strategy, Business Transformation, BYOD, CEO, Chief Collaboration Officer, Chief Creative Officer, Chief Customer Officer, Chief Digital Officer, Chief executive officer, Chief Financial Officer, Chief HR Officer, Chief information officer, Chief Information Security Officer, Chief Marketing Officer, Chief People Officer, Chief procurement officer, Chief Revenue Officer, Chief Sales Officer, Chief Security Officer, Chief Service Officer, Chief Technology Officer, CHRO, CIO, Cloud, Cloud Computing, Cloud options, CMO, CoIT, CoIT and the New CSuite, collaboration, collaboration software, Constellation Research, Corporate Strategy, CTO, CustExp, customer engagement, Customer Experience, customer service, Customer Support, CXM, CXO, CXP, Data to Decisions, Data2Decisions, digital, Digital Business, digital commerce, Digital Disruption, Digital DNA, Digital identity, digital marketing, Digital Strategy, Digital Transformation, DigitalBiz, digitaltransformation, E-Commerce, e-Signature, early adoptions, engagement, enterprise applications, enterprise apps, Enterprise apps strategy, enterprise class, enterprise software, enterprise strategy, future of work, HR, innovation, IT Strategy, journey maps, marketing, Marketing Automation, Next Gen Customer, Next Gen Customer Experience, Next Gen CXP, Next generation apps, Privacy, Privacy Rights, Private Cloud, Private Clouds, public cloud, R "Ray" Wang;, rwang0, safety, safety and privacy, Software Insider, SoftwareInsider, strategy, supply chain, trends, User Experience, user strategy, vendor strategy

By Michael Fauscette on November 12, 2014
Social business, collaboration, community and content, is there real business value tucked away in those words? Digital transformation, digital strategy and digital disruption, are businesses really feeling the pressure to do somethings differently and by changing can they be more competitive, grow faster and be more successful? What's different today that would help businesses unlock […]
Posted in Featured Posts, Trends & Concepts | Tagged collaboration, Community, content, Customer, CX, digital, employee, ESN, internet, networks, socbiz, Social, strategy, transformation, work, Workforce

By Dion Hinchcliffe on November 12, 2014
The rich history of digital collaboration in the last 30 years has been a long and winding one. Fortunately, it's also been a highly rewarding story that has led to literally historic advances in workforce productivity and efficiency for most organizations. Along the way, many of these advances have led to and made possible entirely […]
Posted in Business, Featured Posts | Tagged Analysis, collaboration, communication, Convergence, events, social business, social collaboration, Social Media, strategy, The Enterprise, Trends and Statistics, ucaas, Unified Communications | 2 Responses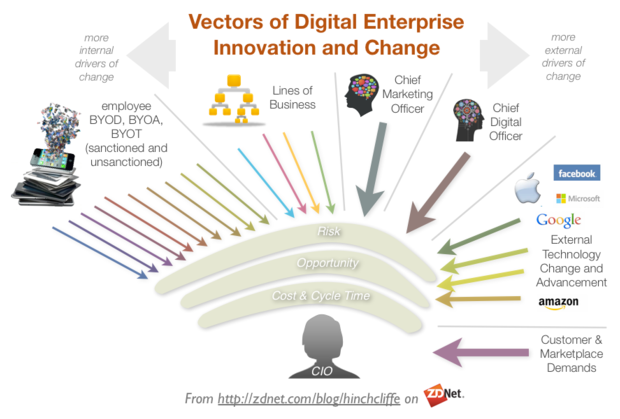 By Dion Hinchcliffe on October 30, 2014
Today's digital workplace is constantly inundated with new applications and devices, as tech investment also decentralizes. Top technology leaders are seeking an orderly path to improvement, yet the the way forward remains more turbulent than ever. Fortunately, there are perspectives that can help.
Posted in Business, Featured Posts | Tagged #futureofwork, CIO, collaboration, Consumerization, CXO, Enterprise 2.0, enterprise software, future of work, IT Priorities, mobility, Unified Comms | 1 Response

By Michael Fauscette on August 26, 2014
The conversation about customer experience as a business strategy continues to get lot's of attention as companies struggle to figure out how to do business in a changing, consumer driven marketplace. A lot of these conversation have focused on the outward facing issues, changing marketing and sales or executing customer service in a new or […]
Posted in Featured Posts, Trends & Concepts | Tagged change, collaboration, CRM, Customer, CX, employees, ESN, experience, socbiz, Social | 2 Responses

By R "Ray" Wang on June 23, 2014
Disruption, Collaboration, and The Future Of Work Highlighted In Latest Edition Last week, June 16, 2014, GE unveiled the 2014 results for its "Global Innovation Barometer". In the 4th annual survey, the GE team commissioned Edelman Berland to phone interview 3209 senior business executives between April 2, 2014 and May 30, 2014.  Interviewees represented VP […]
Posted in Business, Featured Posts | Tagged analytics, Apps Strategy, Big Data, Big Data Business Models, BigData, business disruption, business impact, Business Transformation, business value, CDO, CEO, CFO, Chief Collaboration Officer, Chief Customer Officer, Chief Digital Officer, Chief executive officer, Chief Financial Officer, Chief HR Officer, Chief information officer, Chief Marketing Officer, Chief People Officer, Chief Sales Officer, Chief Technology Officer, CHRO, CIO, Cloud, CMO, co creation, co-innovation, collaboration, Constellation Research, Consumerization of IT, COO, Corporate Strategy, CTO, CustExp, customer engagement, Customer Experience, CXO, Data to Decisions, Design thinking, Digital Business, Digital Strategy, Digital Transformation, DigitalBiz, disruptive, disruptive business models, disruptive technologies, Disruptive technology, early adopters, enterprise applications, enterprise apps, Enterprise apps strategy, enterprise software, enterprise strategy, future of business, future of work, GE, General Electric, Industial Internet, Internet of Things, IoT, Monday's Musings, R "Ray" Wang;, rwang0, Software Insider, SoftwareInsider, vendor strategy | 1 Response