By Louis Columbus on March 25, 2020
The human tragedy the COVID-19 pandemic has inflicted on the world is incalculable and continues to grow. Every human life is priceless and deserves the care needed to sustain it. COVID-19 is also impacting entire industries, causing them to randomly gyrate in unpredictable ways, directly impacting IT and tech spending. COVID-19's Impact On Industries Computer […]
Posted in Business, Featured Posts, Technology / Software, Trends & Concepts | Tagged Atlassian, avasant, Box, Computer Economics, Coronavirus, Coronavirus Impact Index by Industry, COVID, COVID-19, CRM, Dave Wagner, enterprise software, erp, Frank Scavo, GoToMyPC, Louis Columbus' blog, Microsoft Office365, salesforce, Slack, Technology / Software, Tom Dunlap, Zoho Remotely, zoom | 1 Response
By Louis Columbus on November 11, 2019
Bottom Line: Private equity firms are snapping up manufacturing companies at a quick pace, setting off a merger and acquisition gold rush, while leaving multi-cloud manufacturing systems unprotected in a Zero Trust world. Securing the Manufacturing Gold Rush of 2019 The intensity private equity (PE) firms have for acquiring and aggregating manufacturing businesses is creating […]
Posted in Featured Posts, Technology / Software | Tagged Centrify, cybersecurity, Enterprise resource planning, erp, Louis Columbus' blog, Manufacturing, Private Equity Firms, PWC, Zero Trust Privilege, Zero Trust Security
By Louis Columbus on May 30, 2019
99% of mid-market manufacturing executives are familiar with Industry 4.0, yet only 5% are currently implementing or have implemented an Industry 4.0 strategy. Investing in upgrading existing machinery, replacing fully depreciated machines with next-generation smart, connected production equipment, and adopting real-time monitoring including Manufacturing Execution Systems (MES) are manufacturers' top three priorities based on interviews […]
Posted in Business, Featured Posts, Technology / Software, Trends & Concepts | Tagged Artificial intelligence, erp, Industry 4.0, machine learning, Manufacturing, Manufacturing execution system, MES
By Louis Columbus on May 20, 2019
Bottom line: Enterprises are attaining double-digit improvements in forecast error rates, demand planning productivity, cost reductions and on-time shipments using machine learning today, revolutionizing supply chain management in the process. Machine learning algorithms and the models they're based on excel at finding anomalies, patterns and predictive insights in large data sets. Many supply chain challenges are […]
Posted in Business, Featured Posts, Technology / Software, Trends & Concepts | Tagged analytics, Artificial intelligence, Centrify, erp, Infor, Inspectorio, Louis Columbus' blog, machine learning, sap, Supplier relationship management, supply chain management, Supply Chains, Zero Trust Privilege
By Louis Columbus on December 16, 2018
For smart, connected product strategies to succeed they require a product lifecycle view of configurations, best attained by integrating PLM, CAD, CRM, and ERP systems. Capgemini estimates that the size of the connected products market will be $519B to $685B by 2020. In 2018, $985B will be spent on IoT-enabled smart consumer devices, soaring to […]
Posted in Business, Featured Posts, Technology / Software, Trends & Concepts | Tagged CAD, Configit, Configuration Lifecycle Management, configure price quote, CPQ, CRM, CRM Integration, erp, ERP Integration, Louis Columbus' blog, PLM, Product Configuration, Product Models, Sales Configuration, sap, SAP Integration
By Louis Columbus on August 20, 2018
Capitalizing on new digital business models and the growth opportunities they provide are forcing companies to re-evaluate ERP's role. Made inflexible by years of customization, legacy ERP systems aren't delivering what digital business models need today to scale and grow. Legacy ERP systems were purpose-built to excel at production consistency first at the expense of […]
Posted in Business, Featured Posts, Technology / Software | Tagged AI, Amazon Alexa, Artificial intelligence, CAD, Cloud Computing, Cloud ERP, CRM, Enterprise resource planning, erp, Factory of the Future, legacy ERP, Louis Columbus' blog, machine learning, Manufacturing, PLM
By Denis Pombriant on February 25, 2015
I don't know how many old movies there are in which the good guys say, "You're surrounded, come out with your hands up!" Somehow being surrounded is a bad thing, or at least it was until it became a hot trend in the back office. Let me explain. Surrounding legacy systems like conventional ERP is […]
Posted in Featured Posts, Technology / Software | Tagged Cloud Computing, Cloud ERP, Enterprise resource planning, erp, SaaS ERP
By Brian Sommer on February 20, 2015
It's amazing: Of all the financial applications that could be built, ERP vendors focus on core financials like general ledger. Here's a firm that serves an enviable clientele — but it's not a big name brand in financial software (yet).
Posted in Featured Posts, Technology / Software | Tagged Blackline, Enterprise resource planning, erp
By R "Ray" Wang on February 4, 2015
 Launch Of SAP S/4 Provides Catalyst For Organizations To Update Their Next Gen Apps Strategy The February 3rd, 2015 New York City SAP S/4 launch event brought a positive closure for customers seeking the next generation apps strategy from SAP.  At a high level, the SAP S/4 HANA offering offers: a new suite of applications […]
Posted in Featured Posts, Technology / Software | Tagged #techoptimization, Apps Strategy, Architecture, best practices, Business suite 7, ByD, Chief Financial Officer, Chief HR Officer, Chief information officer, Chief People Officer, Chief Technology Officer, CIO, Cloud, Constellation Research, deployment options, Digital Transformation, digitaltransformation, Ensw, enterprise, enterprise applications, enterprise apps, Enterprise apps strategy, Enterprise resource planning, enterprise software, enterprise strategy, erp, event report, Legacy Optimization, next gen apps, R "Ray" Wang;, rwang0, S/4, sap, SAP AG, SAP Business Suite 7, SAP Enterprise Support, SAP ERP, SAP Hana, SAP Hybris, saphana, SAUGSummit, SOA, Software Insider, software licensing, software licesing and pricing, software maintenance, software ownership, SoftwareInsider, Technology Optimization, user strategy, vendor strategy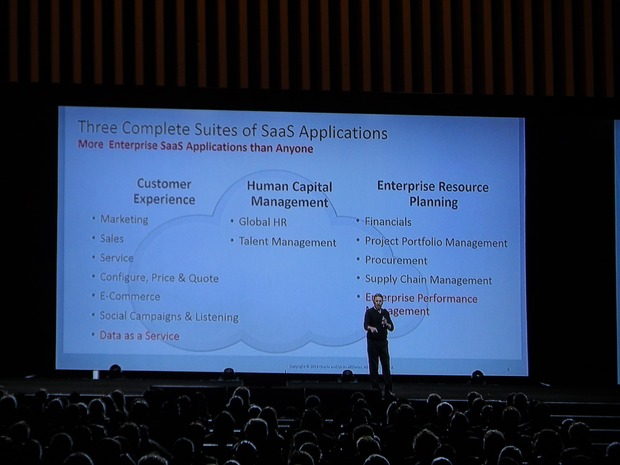 By Brian Sommer on October 7, 2014
Recent conferences by Infor and Oracle demonstrate that the on-premises vs cloud debate is over. Brian Sommer looks at what happened with Oracle this last year to get to this point.
Posted in Featured Posts, Technology / Software | Tagged #oow14, Cloud ERP, erp, Infor, oracle, Oracle OpenWorld