By R "Ray" Wang on September 29, 2014
 Oracle Intends To Dominate Cloud From Silicon To Software Amidst a packed standing room only crowd at Moscone North, Founder, Executive Chairman, and CTO, Larry Ellison took to the stage to clarify Oracle's company and cloud strategy.  Key points from his keynote include how Oracle is: Committing to full upward compatibility of all its database, […]
Posted in Business, Featured Posts | Tagged #oow14, analytics, Apps Strategy, Big Data, Big Data Business Models, BigData, bring-your-own-device, Business Analytics, CDO, CEO, CFO, Chief Digital Officer, Chief executive officer, Chief Financial Officer, Chief HR Officer, Chief information officer, Chief Information Security Officer, Chief Marketing Officer, Chief People Officer, Chief procurement officer, Chief Revenue Officer, Chief Sales Officer, Chief Security Officer, Chief Service Officer, Chief Technology Officer, CHRO, CIO, Cloud, Cloud BPO, Cloud Computing, Cloud options, Cloud Wars, CMO, CoIT, CoIT and the New CSuite, Constellation Research, Customer Experience, customer experience management, CXM, CXO, data streaming, Data to Decisions, Database, DBaaS, Digital Transformation, digitaltransformation, Engineered systems, enterprise applications, enterprise apps, Enterprise apps strategy, enterprise software, erp, event report, future of work, middleware, nalytics, Next Gen CXP, NextGenCXP, OOW, Oracle Fusion Apps, Oracle Fusion Middleware, Oracle Open World, Oracle Partner Network, Quips, R "Ray" Wang;, rwang0, Software Insider, Software Vendors, SoftwareInsider, user conference, user event, vendor strategy
By R "Ray" Wang on September 28, 2014
Oracle Doubles Down On Cloud Messaging Amidst A World Shifting To Digital Transformation Over 60,000 physical attendees from 145 countries gather in San Francisco for the 2014 Oracle Open World.  In addition, Oracle expects 2.1 million online attendees to join the live stream of one of the largest events in enterprise software.  Amidst the […]
Posted in Business, Featured Posts | Tagged #oow14, analytics, Apps Strategy, Big Data, Big Data Business Models, BigData, bring-your-own-device, Business Analytics, CDO, CEO, CFO, Chief Digital Officer, Chief executive officer, Chief Financial Officer, Chief HR Officer, Chief information officer, Chief Information Security Officer, Chief Marketing Officer, Chief People Officer, Chief procurement officer, Chief Revenue Officer, Chief Sales Officer, Chief Security Officer, Chief Service Officer, Chief Technology Officer, CHRO, CIO, Cloud, Cloud BPO, Cloud Computing, Cloud options, Cloud Wars, CMO, CoIT, CoIT and the New CSuite, Constellation Research, Customer Experience, customer experience management, CXM, CXO, data streaming, Data to Decisions, Database, DBaaS, Digital Transformation, digitaltransformation, Engineered systems, enterprise applications, enterprise apps, Enterprise apps strategy, enterprise software, erp, event report, future of work, middleware, nalytics, Next Gen CXP, NextGenCXP, OOW, Oracle Fusion Apps, Oracle Fusion Middleware, Oracle Open World, Oracle Partner Network, R "Ray" Wang;, rwang0, Software Insider, Software Vendors, SoftwareInsider, user conference, user event, vendor strategy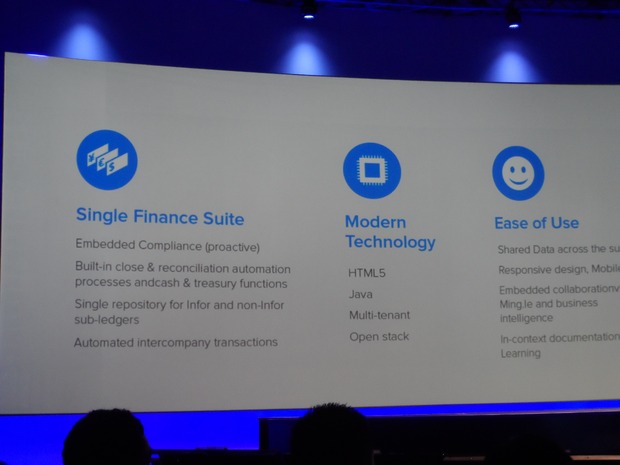 By Brian Sommer on September 24, 2014
Infor's suite of high-end cloud financial software products include a new user interface, in-memory database technology and more. CloudSuite signals a major shift in the application space. Will CIOs bite?
Posted in Featured Posts, Technology / Software | Tagged Charles Phillips, Cloud Computing, Cloud ERP, CloudSuite Financial, erp, Infor, netsuite, sap, workday
By Michael Fauscette on September 19, 2014
I just returned from New Orleans last evening after attending Infor's user conference Inforum (disclosure: Infor paid my travel expenses to the event, and is an IDC client). On the flight back I was thinking about what I saw, and what I've learned about Infor from my last several interactions with them, and wanted to […]
Posted in Featured Posts, Technology / Software | Tagged Business, data, design, enterprise, erp, financials, HCM, Infor, Inforum 2014, innovation, Science, Technology / Software, ux | 1 Response
By R "Ray" Wang on September 9, 2014
Australian Users Concerns About SAP Similar To Other Global Users Over 500 Australian SAP users gathered between September 8th and 9th, 2014 at the Sydney Hilton for the annual user conference.  Users came from IT roles, marketing, HR, and finance.  In speaking to over 100 attendees, key concerns include: Lack of clarity in future […]
Posted in Business, Featured Posts | Tagged #techoptimization, Apps Strategy, Architecture, best practices, Business suite 7, ByD, Chief Financial Officer, Chief HR Officer, Chief information officer, Chief People Officer, Chief Technology Officer, CIO, Cloud, Constellation Research, deployment options, Digital Transformation, digitaltransformation, enterprise, enterprise applications, enterprise apps, Enterprise apps strategy, Enterprise resource planning, enterprise software, enterprise strategy, erp, event report, Legacy Optimization, R "Ray" Wang;, rwang0, sap, SAP AG, SAP Australian User Group, SAP Business Suite 7, SAP Enterprise Support, SAP ERP, SAP Hana, SAP Hybris, SAUGSummit, SOA, Software Insider, software licensing, software licesing and pricing, software maintenance, software ownership, SoftwareInsider, Technology Optimization, user conference, user event, user group event, user group events, user groups, user strategy, vendor strategy
By Michael Krigsman on August 27, 2014
CEO Charles Phillips explains why his enterprise software company has cultivated design as a core strategic competency.
Posted in Featured Posts, Technology / Software | Tagged Charles Phillips, design, erp, Infor, Infor Global Solutions, workday | 2 Responses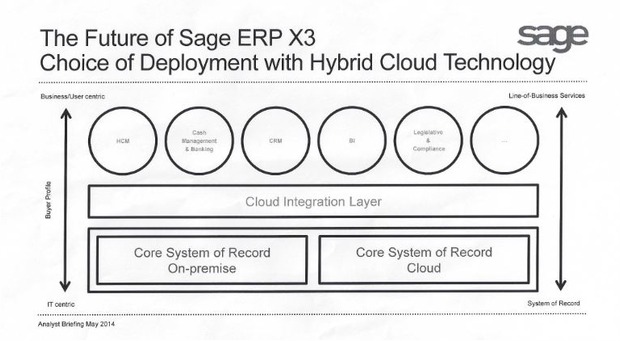 By Brian Sommer on August 26, 2014
Sage ERP X3 has hit a new level of technological sophistication and market relevance. Will the firm put the resources together to help this product line take off in the North American marketplace? A key customer visit adds insight.
Posted in Featured Posts, Technology / Software | Tagged erp, Sage | 1 Response
By Vinnie Mirchandani on July 25, 2014
You have heard the expression "Fool me once, shame on you. Fool me twice, shame on me". But if you get fooled 6-7-8 times, who do you blame? As I go through every nook and crevice of the SAP economy for the book I am writing, it is staggering how every type of vendor has […]
Posted in Business, Featured Posts | Tagged erp, Level-5, sap, SAP Hana, Six Sigma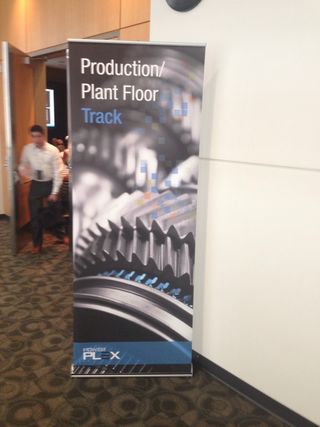 By Vinnie Mirchandani on June 12, 2014
"No stock footage here" Remarked Plex CEO Jason Blessing about the video about various shop floors at customer sites which kicked off his user conference, PowerPlex yesterday. Actually he need not have used any footage at all. He had 900 attendees in person representing 1,100 sites across 20 countries where the software helps with shop […]
Posted in Business, Featured Posts | Tagged erp, Kanban, Plex, Plex Systems, PowerPlex
By Jason Busch on May 13, 2014
SAP is shaking up its cloud business. Or perhaps the cloud is shaking up SAP. Both Vishal Sikka, who championed HANA on the executive board level, and Shawn Price, the president of SAP's cloud business unit for only a few months, have left (see news coverage here and here). While there are different views on […]
Posted in Business, Featured Posts | Tagged Ariba, erp, sap, SAP AG, Shawn Price, SuccessFactors, Vishal Sikka | 2 Responses