By Phil Fersht on September 16, 2015
The main man who tracks the influencers, Duncan Chapple, gives us a little sneak preview into how this year's Analyst Value Survey is chugging along, with several hundred research buyers already sharing their views: Click to access article If you haven't yet had your chance to share you options of which analysts are doing (or […]
Posted in Trends & Concepts | Tagged Analytics and Big Data, Business Process Outsourcing (BPO), Enterprise Irregulars, HfS, HfSResearch.com Homepage, IT Outsourcing / IT Services, Outsourcing Advisors | Leave a response
By Phil Fersht on September 15, 2015
Admit it, people, you're all being subjected to presentations from many service providers and advisors that have become so confusing you're actually too embarrassed to say: "I really haven't got a clue what you are trying to pitch me here". In many cases, you suspect the suit presenting it to you probably doesn't have much […]
Posted in Featured Posts, Trends & Concepts | Tagged 2015 As-a-Service Study, Business Process Outsourcing (BPO), Confusing Outsourcing Information, Enterprise Irregulars, HfS, HfSResearch.com Homepage, IaaS and BPaaS, IT Outsourcing / IT Services, PaaS, Phil Fersht, Robotic Process Automation, RPA, SaaS, Sourcing Change Management, Talent in Sourcing | Leave a response
By Phil Fersht on August 9, 2015
When we coined the term "The As-a-Service Economy" a year ago (remember our famous Ten Tenets post), we never quite anticipated we were helping define the future model the services industry would adopt for business, technology and operational service delivery. As-a-Service replaces Outsourcing We've perennially debated the (toxic) term "outsourcing", long vilified as the substitution of […]
Posted in Business, Featured Posts, Technology / Software, Trends & Concepts | Tagged 2015 As-a-Service Study, ADP, Analytics and Big Data, as a service, as-a-service economy, Business Process Outsourcing (BPO), Buyers' Sourcing Best Practices, Cloud Computing, Design thinking, Digital Transformation, Enterprise Irregulars, Global Business Services, HfS, HfS Surveys: All our Survey Posts, HfSResearch.com Homepage, HR Strategy, IaaS and BPaaS, IT Outsourcing / IT Services, mobility, PaaS, Phil Fersht, Robotic Process Automation, SaaS, Security and Risk, Sourcing Change Management, Sourcing Locations, Talent in Sourcing, The As-a-Service Economy, The Internet of Things, Ultimate Software, workday
By Phil Fersht on July 2, 2015
Most of the outsourcing industry is still trying to figure out what's possible beyond doing labor arbitrage really well – because that's what we do. Sorry, but there I said it – we officially have an identity crisis. We're trying to forge a new identity for ourselves and re-imagine what our careers, our services and our […]
Posted in Featured Posts, Trends & Concepts | Tagged 2015 As-a-Service Study, Analytics and Big Data, as a service, Business Process Outsourcing (BPO), Buyers' Sourcing Best Practices, Design thinking, Digital Transformation, Enterprise Irregulars, Global Business Services, HfS, HfS Surveys: All our Survey Posts, HfSResearch.com Homepage, HR Strategy, IaaS and BPaaS, IT Outsourcing / IT Services, Knowledge Process Outsourcing & Analytics, mobility, PaaS, Phil Fersht, Robotic Process Automation, SaaS, Sourcing Change Management, Talent in Sourcing, The As-a-Service Economy
By Phil Fersht on June 29, 2015
When we look back at this current era of IT services, we're going to remember this as the time when many of the leading providers launched their platforms to help orchestrate, analyze, automate and artificially intellectualize the delivery of technology to enterprises. We've already had IBM's Watson™ and Wipro's sidekick Holmes™, in addition to the several specialist […]
Posted in Featured Posts, Trends & Concepts | Tagged Analytics and Big Data, Cloud Computing, Digital Transformation, Enterprise Irregulars, harrick vin, HfS, HfSResearch.com Homepage, IaaS and BPaaS, ignio, IT Outsourcing / IT Services, Knowledge Process Outsourcing & Analytics, Outsourcing Heros, PaaS, Phil Fersht, Robotic Process Automation, SaaS, Security and Risk, Sourcing Change Management, Tata, TCS, The As-a-Service Economy
By Phil Fersht on May 22, 2015
After all these years, CSC is finally separating out its public sector and commercial businesses.  So what does the HfS analyst team think of it all? This week's announcement that CSC would be dividing into two new entities, one for US Public Sector contracts and the other for Global Commercial contracts is a welcome and […]
Posted in Business, Featured Posts | Tagged csc, enterprise, Enterprise Irregulars, government, Healthcare and Outsourcing, HfS, HfSResearch.com Homepage, hp, ibm, IT Outsourcing / IT Services, Knowledge Process Outsourcing & Analytics
By Phil Fersht on May 8, 2015
Just a few short years after ADP introduced the basic fundamentals of Business-Process-as-a-Service to the corporate back office with its managed payroll offerings, Workday has rapidly introduced HR-as-a-Service to the corporate, world with its comprehensive HR platform suite, creating a whole new ecosystem of service providers eager to slake the Workday thirst of so many HR […]
Posted in Business, Featured Posts | Tagged Business Process Outsourcing (BPO), Buyers' Sourcing Best Practices, Cloud Computing, Digital Transformation, Enterprise Irregulars, fersht, Global Business Services, HfS, HfSResearch.com Homepage, HR Outsourcing, HR Strategy, Knowledge Process Outsourcing & Analytics, PaaS, Platform as a service, SaaS, software as a service, Talent in Sourcing, workday

By Phil Fersht on February 1, 2015
Consultants are supposed to be like doctors – they need to use the latest tools, technologies and knowledge at their disposal to help their clients
Posted in Business, Featured Posts | Tagged Analytics and Big Data, Business Process Outsourcing (BPO), Buyers' Sourcing Best Practices, Digital Transformation, Enterprise Irregulars, Global Business Services, HfS, HfS Surveys: All our Survey Posts, HfSResearch.com Homepage, HR Strategy, IT Outsourcing / IT Services, Knowledge Process Outsourcing & Analytics, KPMG, mobility, Outsourcing, Outsourcing Advisors, Phil Fersht, Sourcing Change Management, Talent in Sourcing, The As-a-Service Economy, Value Beyond Cost Study 2015 | 1 Response

By Phil Fersht on January 19, 2015
60% of enterprise C-Suites are actively seeking to reduce their reliance on labor in their operations – but most are discovering they need to work smarter before they can work cheaper.
Posted in Business, Featured Posts | Tagged Analytics and Big Data, as a service, Business Process Outsourcing (BPO), Buyers' Sourcing Best Practices, Cloud Computing, Digital Transformation, Engineering & Supply Chain Outsourcing, Enterprise Irregulars, Global Business Services, Healthcare and Outsourcing, HfS, HfS Surveys: All our Survey Posts, HfSResearch.com Homepage, HR Strategy, IaaS and BPaaS, IT Outsourcing / IT Services, Knowledge Process Outsourcing & Analytics, mobility, Outsourcing Advisors, PaaS, Phil Fersht, procurement, Robotic Process Automation, SaaS, SAP SuccessFactors, Sourcing Change Management, Talent in Sourcing, The As-a-Service Economy, The Internet of Things, Value Beyond Cost Study 2015, workday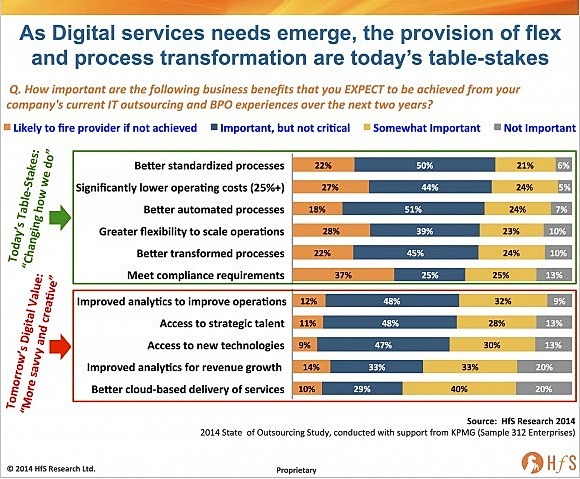 By Michael Krigsman on July 25, 2014
Changing technologies, client expectations, competition and an evolving market environment have forced business process outsourcers to adapt. Here's what you need to know.
Posted in Business, Featured Posts | Tagged BPO, business process outsourcing, HfS, HfS Research, IT service management | 1 Response