By Louis Columbus on May 20, 2019
Bottom line: Enterprises are attaining double-digit improvements in forecast error rates, demand planning productivity, cost reductions and on-time shipments using machine learning today, revolutionizing supply chain management in the process. Machine learning algorithms and the models they're based on excel at finding anomalies, patterns and predictive insights in large data sets. Many supply chain challenges are […]
Posted in Business, Featured Posts, Technology / Software, Trends & Concepts | Tagged analytics, Artificial intelligence, Centrify, erp, Infor, Inspectorio, Louis Columbus' blog, machine learning, sap, Supplier relationship management, supply chain management, Supply Chains, Zero Trust Privilege
By Vinnie Mirchandani on November 16, 2016
I have long wondered when corporations, especially conglomerates, would become enterprise software/service providers in their own right. The track record is patchy. You see financial service companies like Bank of America and Fidelity offer payroll and benefits support. You see vertical investments – Siemens with PLM and CAD, ABB with Mincom. You see auto companies […]
Posted in Business | Tagged erp, Industry Commentary, Infor, microsoft, oracle
By Vinnie Mirchandani on April 3, 2016
Just before I had flown up to New York for the Infor Innovation Summit, I had interviewed Malcolm Frank, EVP of Strategy at Cognizant about trends he is seeing in the outsourcing and software markets. Malcolm talked about what he had heard from customers at Davos, the digital transformation and design thinking trends in […]
Posted in Business, Featured Posts | Tagged Cloud Computing, Enterprise Software (other vendors), Infor, Outsourcing (other vendors), SaaS
By R "Ray" Wang on August 11, 2015
Infor Moves Towards A Cloud Network Economy With Acquisition Of GT Nexus.
Posted in Business | Tagged Apps Strategy, Charles Phillips, Cloud, Cloud Computing, Constellation Research, Ensw, enterprise applications, enterprise apps, Enterprise apps strategy, enterprise software, GT Nexus, Infor, inforum, Manhattan Associates, Manufacturing, mergers, Mergers And Acquisitions, network economy, News Analysis, procurement, R "Ray" Wang;, rwang0, Software Insider, SoftwareInsider, supply chain, supply chain orchestration, suppy chain management, vendor strategy
By Vinnie Mirchandani on June 14, 2015
It will be the extension of the Sunday night/Monday morning phenomenon. What users expect at work should not trail what they are already seeing in their cars and in their homes. Or at the movies.
Posted in Featured Posts, Technology / Software | Tagged Apple Inc., google, Industry Commentary, Infor, iOS, microsoft, minority report, sap, SAP Fiori, Siri, skype
By Vinnie Mirchandani on April 9, 2015
Infor hosted its annual Innovation Summit at its headquarters in NYC last week. Aesthetically it was very pleasing as I wrote here, Infor was also generous in the long list of analyst and media guests invited (and I encourage you to read posts about the event from Brian Sommer, Larry Dignan and others.) In some […]
Posted in Business, Featured Posts | Tagged Cloud Computing, Enterprise Software (other vendors), Infor
By Vinnie Mirchandani on December 22, 2014
Infor's continued focus on micro-verticals and deploying them in the Amazon cloud is starting to pay off. In its quarterly earnings announcement it said "it has more than 25 million users of its cloud applications, and industry-specific certifications in healthcare, aerospace & defense, and government" People will nitpick about their definition of "cloud" but to […]
Posted in Featured Posts, Technology / Software | Tagged Amazon Web Services, Industry Verticals, Infor, vertical apps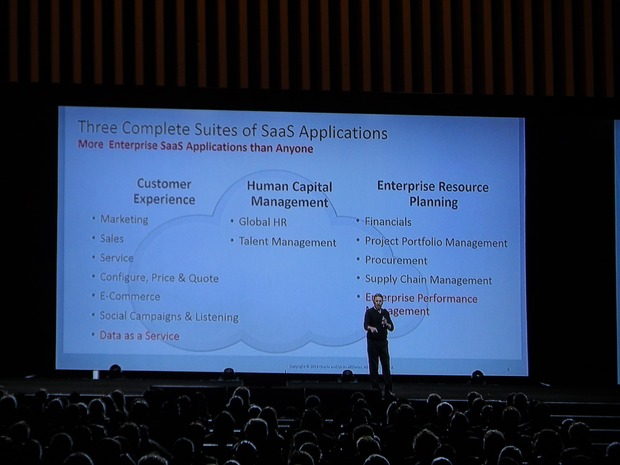 By Brian Sommer on October 7, 2014
Recent conferences by Infor and Oracle demonstrate that the on-premises vs cloud debate is over. Brian Sommer looks at what happened with Oracle this last year to get to this point.
Posted in Featured Posts, Technology / Software | Tagged #oow14, Cloud ERP, erp, Infor, oracle, Oracle OpenWorld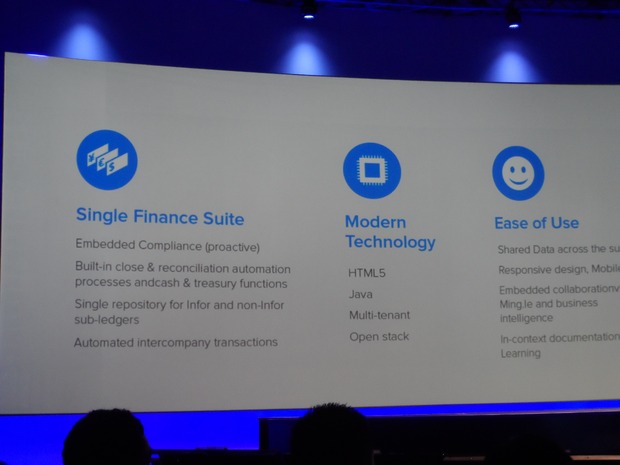 By Brian Sommer on September 24, 2014
Infor's suite of high-end cloud financial software products include a new user interface, in-memory database technology and more. CloudSuite signals a major shift in the application space. Will CIOs bite?
Posted in Featured Posts, Technology / Software | Tagged Charles Phillips, Cloud Computing, Cloud ERP, CloudSuite Financial, erp, Infor, netsuite, sap, workday
By Michael Fauscette on September 19, 2014
I just returned from New Orleans last evening after attending Infor's user conference Inforum (disclosure: Infor paid my travel expenses to the event, and is an IDC client). On the flight back I was thinking about what I saw, and what I've learned about Infor from my last several interactions with them, and wanted to […]
Posted in Featured Posts, Technology / Software | Tagged Business, data, design, enterprise, erp, financials, HCM, Infor, Inforum 2014, innovation, Science, Technology / Software, ux | 1 Response