By Dion Hinchcliffe on June 20, 2016
I've been making the argument lately that the single largest obstacle in successful digital transformation is change itself. Surprisingly, the arrival of new technology is generally not the large hurdle to becoming more digital in a meaningful way, though it certainly represents a large and growing learning curve. Yet learning the new technology is manageable […]
Posted in Featured Posts, Trends & Concepts | Tagged Analysis, Digital Experience, Digital Transformation, events, Network effects, Online Community, peer production, strategy, The Enterprise
By Dion Hinchcliffe on March 16, 2016
I've traveled nearly 70,000 miles all over the world since the beginning of the year, talking with digital practitioners in the trenches. Most often these are passionate but often frustrated change agents, IT managers grappling with tech evolution, and corporate leaders on both the technology and business side looking towards their futures and feeling uncertain. […]
Posted in Featured Posts, Trends & Concepts | Tagged Analysis, Network effects, strategy, The Enterprise, The Web
By Dion Hinchcliffe on May 26, 2015
I've spent much of my Memorial Day Holiday here in the United States pondering the Red Queen effect vs. network effects, seminal laws of technology and business both, that are often held as gospel by their adherents who believe they are the natural and intrinsic properties of their operating environments (digital ecosystems in this case.) […]
Posted in Business, Featured Posts | Tagged Analysis, Enterprise architecture, network effect, Network effects, red queen hypothesis, social business, strategy, The Enterprise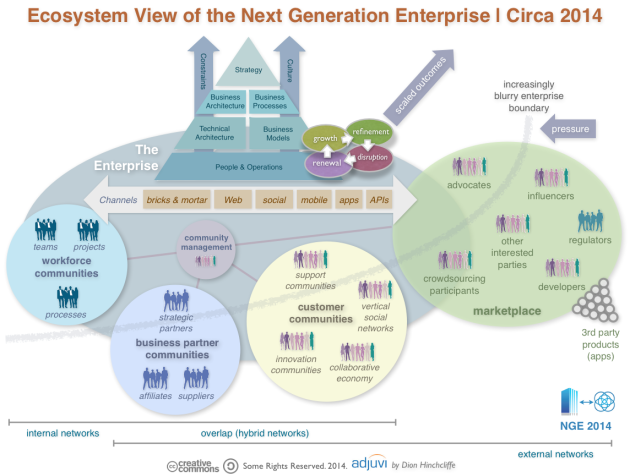 By Dion Hinchcliffe on May 12, 2014
Many of you know that over the last several years I've tried to make the case that most organizations are currently falling behind the advancing pace of technological change. That business is so centered around technology today is the reason why addressing this has become a top competitive issue. Becoming better adapted to tech change […]
Posted in Business, Featured Posts | Tagged Analysis, Crowdsourcing, Enterprise architecture, Network effects, NGE2014, social business, Social Media, strategy, The Enterprise
By Dion Hinchcliffe on November 12, 2013
A short but pithy piece over the weekend by Dave Winer titled "Why the Web 2.0 model is obsolete" got me thinking about where we've ended up with social media after nearly ten years. Blogs, wikis, and other tools of easily shared self-expression from the early days have given away in recent years to a […]
Posted in Featured Posts, Trends & Concepts | Tagged Analysis, Network effects, social business, social graph, Social Media, Social Technology & Standards, strategy, The Web, Trends and Statistics, Web 2.0 | 1 Response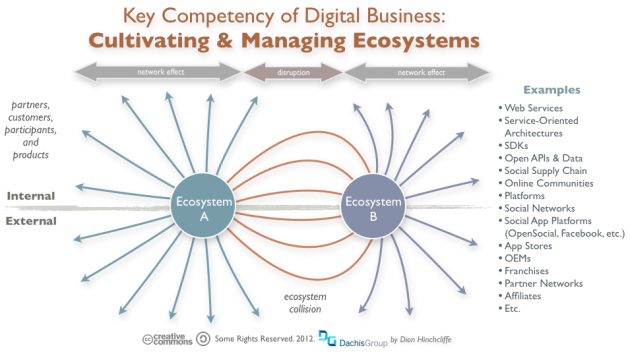 By Dion Hinchcliffe on February 26, 2012
Why is it that so many traditional companies with an enormous wealth of assets largely fail to transform them for the digital era? By assets here, I mean established customer base, closely held relationships with trading partners, mountains of data and IP, as well as their bread and butter, the actual products and services they […]
Posted in Business | Tagged Analysis, Enterprise architecture, Network effects, peer production, strategy, The Enterprise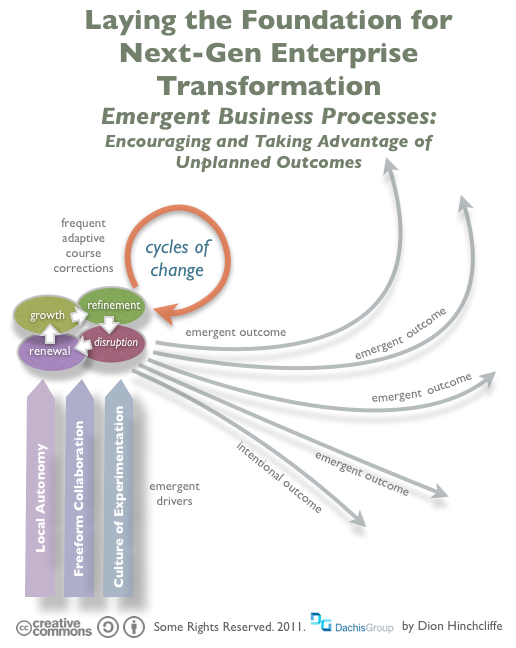 By Dion Hinchcliffe on October 31, 2011
As I was reading David F. Carr's latest piece on The Brainyard today, it drove home again for me some of the practically insurmountable challenges that many organizations have in avoiding the growing forces of digital disruption. David's piece talked about Don Tapscott's proposition that we have to fundamentally remake the way our organizations engage […]
Posted in Business | Tagged Analysis, Network effects, peer production, social business, strategy, The Enterprise, The Web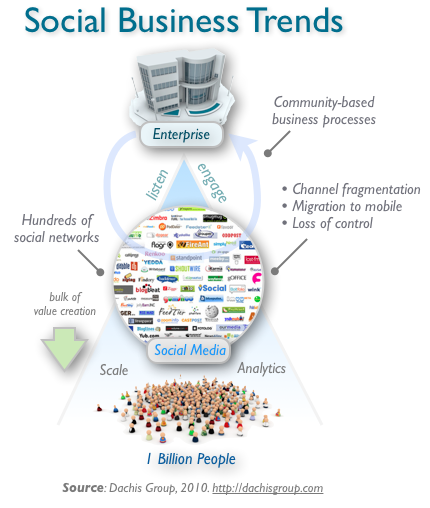 By Dion Hinchcliffe on August 4, 2010
It will come as little surprise to readers here that businesses this year have been getting increasingly serious about social media as they find that their customers are spending a rapidly growing amount of time there. The most recent numbers show that Americans are spending nearly a quarter of their online time in social networks, […]
Posted in Featured Posts, Trends & Concepts | Tagged Blog Post, Cloud Computing, Community, mobile, Network effects, Social CRM, trends | 5 Responses

By Dion Hinchcliffe on March 5, 2010
Though smaller than in year's past, Germany's CeBIT trade show in Hanover this week remains one of the giants of the industry and is a must-attend event for much of Europe's technology leaders. For the last two years, I have been participating in Webciety, a show within a show that explores the emerging 21st century digital lifestyle.
Here is a breakdown of how Europe is looking at Enterprise 2.0 adoption and how it affects us as well.
Posted in Featured Posts, Technology / Software, Trends & Concepts | Tagged Architecture of Participation, blogs, Cloud Computing, collaboration, Collective intelligence, community management, Enterprise 2.0, Enterprise Web 2.0, Enterprise Wikis, mashups, Network effects, Products, SaaS, social computing, Social CRM, Social Economy, Social Media, social networking, social networks, social software, social web, Web 2.0, Web 2.0 Platforms, Wikis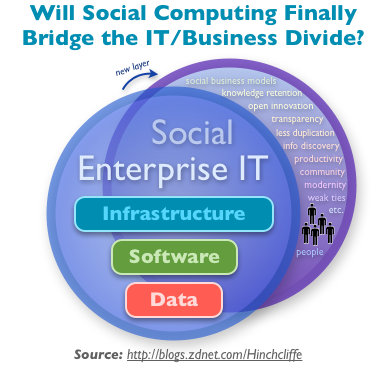 By Dion Hinchcliffe on February 28, 2010
Marc Benioff, CEO of Salesforce, the well-known CRM and cloud computing company (and now soon-to-be social software vendor) wrote a guest post on TechCrunch late last week making the case for "why enterprise software should take its cues from Facebook and become more social."
What then does this mean for the future of IT and what impacts will social computing ultimately have on the enterprise.
Posted in Featured Posts, Technology / Software | Tagged Architecture of Participation, Cloud Computing, Collective intelligence, Community, Digital Strategy, Enterprise 2.0, Enterprise Web 2.0, Network effects, SaaS, social computing, Social Economy, Social Media, social networking, social software, social web, The Social Graph, Web 2.0, Web 2.0 Platforms, Web as Platform