By Denis Pombriant on February 15, 2016
Nearly every generation sees the birth of what for it will define modern life as going forward. As uncertain as the twenty-teens have been so far, some day in retrospect economists may pinpoint this decade as important as the tipping points of 1870's and the 1920's. If that turns out to be the case there […]
Posted in Featured Posts, Technology / Software | Tagged benioff, CRM, Parker Harris, platform, salesforce
By Denis Pombriant on September 29, 2015
What a difference a decade makes. Ten years ago, the booths on the Dreamforce show floor were little more than outposts for widget-makers but fast-forward to Dreamforce 2015 and one is struck by the number, variety, and size of the partner community. But that's only part of the story, often out of sight is the […]
Posted in Business, Featured Posts | Tagged #df15, Brynjolfsson, CRM, David Schmaier, Dreamforce, Kara Swisher, Kevin Nix, Marc Benioff, Matt Wallach, McAfee, Narina Sippy, Parker Harris, Peter Gassner, salesforce, siebel, Stellar Loyalty, Steve Mankoff, Tyler Prince, Veeva, Vlocity
By James Governor on September 25, 2015
the @salesforce devzone is mental. no hyperbole required. place is PACKED. "we're going to need a bigger boat" #df15 pic.twitter.com/5BJHj5mnAy — Clique Baet (@monkchips) September 17, 2015 Last week I travelled to San Francisco for Dreamforce 2015. The annual Salesforce.com conference is actually kind of weird in that it is optimised for scale but it […]
Posted in Featured Posts, Technology / Software | Tagged #df15, Dreamforce, financialforce.com, heroku, Parker Harris, Postgres, Redis, salesforce, salesforce.com, trailhead
By Paul Greenberg on August 31, 2015
InsideView and Xactly both support sales enablement/optimization in entirely different ways – and do it really well. Check each of them out because they may help you think through how to make how you sell a better thing.
Posted in Business, Featured Posts | Tagged CRM Watchlist, CRM Watchlist 2015, customer relationship management, enterprise software, InsideView, netsuite, Parker Harris, Sales Cloud, salesforce.com, Xactly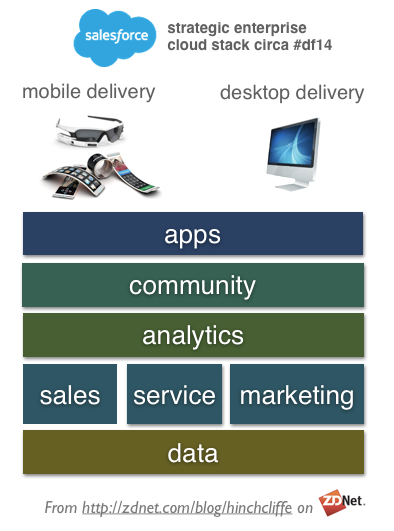 By Dion Hinchcliffe on October 15, 2014
The vision Salesforce has for market-facing engagement is the right one: Tear down data, app, and user experience silos between marketing, sales, operations, and support. But does their cloud measure up to this vision yet?
Posted in Business, Featured Posts, Technology / Software | Tagged #df14, Dreamforce 2014, Lightning Platform, Moscone Center, Parker Harris, salesforce, salesforce.com, San Francisco
By Vinnie Mirchandani on September 24, 2014
In 2009, I wrote a blog about Parker Harris, the co-founder of Salesforce.com titled The Loneliness of a Pioneer. I wrote "..in some ways he wishes the larger vendors would be there today. There are common engineering and plumbing challenges every competitor hits which are useful to share experiences around.  It would be good for the […]
Posted in Business, Featured Posts | Tagged #wday, Aneel Bhusri, Parker Harris, PeopleSoft, salesforce.com, workday, Workday Tech Summit
By Denis Pombriant on March 7, 2014
Fifteen is an interesting anniversary.  We tend to think about major anniversaries in ten-year increments with the five-year internode acting more as a gut check.  Fifteen is close enough to the creation that all of the relevant parties are still around and most are still in place.  But it's also far enough in the rearview […]
Posted in Business, Featured Posts | Tagged benioff, Parker Harris, salesforce, salesforce.com, San Francisco, Siebel Systems
By Phil Wainewright on September 19, 2012
Rather than centering collaboration around documents, Salesforce.com's new file syncing add-on to Chatter centers file sharing around signals
Posted in Featured Posts, Technology / Software | Tagged Chatterbox, collaboration, df12, Dreamforce, dropbox, Parker Harris, salesforce.com, Virgin America | 3 Responses
By R "Ray" Wang on August 29, 2011
Welcome to an on-going series of interviews with the people behind the technologies in Social Business.  The interviews  provide insightful points of view from a customer, industry, and vendor perspective.  A full list of interviewees can be found here. Parker Harris, Co-Founder and Executive VP of Technology Biography Parker Harris founded salesforce.com along with […]
Posted in Business | Tagged #DF11, $crm Salesforce.com, Cloud, Cloud Computing, Co-Founder, Constellation Research, CRM, data.com, database.com, disruptive, disruptive technologies, Disruptive technology, Dreamforce, e20, e2conf, Enterprise 2.0, enterprise applications, enterprise apps, Executive Profiles, Forbes, Parker Harris, R "Ray" Wang;, R "Ray" Wang;, Radian 6, Radian6, rwang0, SaaS, SCRM, social business, Social Business Software, Social CRM, software as a service, Thursday's Tech Showcase, Thursday's Tech Showcase | 1 Response
By R "Ray" Wang on May 29, 2011
Executive Profile Series Delivers The Inside View On Disruptive Technologies Starting this week, we'll be kicking off an on-going series of interviews with the people behind the technologies in Cloud Computing and Social Business.  The interviews should provide insightful points of view from a customer, industry, and vendor perspective.  The transcript of the 30 minute […]
Posted in Business | Tagged aaron levie, Adam Rogers, adobe, Adobe Systems, Alan F. Nugent, Alcatel-Lucent, Alistair Rennie, Aneel Bhusri, Attensity Group, Bill Jacarsuo, Bob Kelly, Box.net, Brad Smith, BunchBall, Charlie Isaacs, Clarabridge, Cloud, Cloud Computing, Danile Debow, David Bankston, David Sacks, disruptive, disruptive technologies, Disruptive technology, Ed Van Siclen, Eugene Lee, Executive Profiles, Gaurav Dhillon, Get Satisfaction, Greg Gianforte, hootsuite, Ian Hersey, ibm, INgage Networks, Intuit, Jive Software, Lithium Technologies, loic le meur, Lyle Fong, Marcel LeBrun, Michael Ni, microsoft, Moxie Software, Mzinga, netsuite, Parker Harris, Pervasive Software, Peter Lorenz, R "Ray" Wang;, R "Ray" Wang;, Radian6, Rajat Paharia, Ram Menon, Randy Guard, RightNow, RightNow Technologies, Rob Howard, Rob Tarkoff, rwang0, Ryan Holmes, Rypple, salesforce.com, sap, SAP AG, SAS Institute, seesmic, Sid Banerjee, SnapLogic, social business, Social Business Software, socialtext, Telligent, TIBCO Software, Tien Tzuo, Tom Kelly, Tony Zingale, Ultimate Software, vendor strategy, Verafirma, Wendy Lea, workday, yammer, Zach Nelson, Zuora | 1 Response