By Denis Pombriant on January 6, 2020
Tech flexed its muscles in the last decade, now we have to deal with the consequences.
Posted in Featured Posts, Trends & Concepts | Tagged economics, internet, Politics, Social Media, technology
By David Terrar on December 15, 2014
A few things struck me today about Twitter and about one aspect of a World gone social. I subscribe to a great service called Timehop, which reminds me every day about tweets and Twitter conversations for this day but 1, 2, 3 and more years ago. It's a great way to bring back things you […]
Posted in Featured Posts, Technology / Software | Tagged Facebook, Instagram, Social Media, Twitter

By Dion Hinchcliffe on November 12, 2014
The rich history of digital collaboration in the last 30 years has been a long and winding one. Fortunately, it's also been a highly rewarding story that has led to literally historic advances in workforce productivity and efficiency for most organizations. Along the way, many of these advances have led to and made possible entirely […]
Posted in Business, Featured Posts | Tagged Analysis, collaboration, communication, Convergence, events, social business, social collaboration, Social Media, strategy, The Enterprise, Trends and Statistics, ucaas, Unified Communications | 2 Responses
By Esteban Kolsky on September 16, 2014
We did it! Finally, we reached peak of the hype cycle for Digital Transformation. Congratulations, we couldn't have done it without your help. Thank you! I first wrote, seriously, about it earlier this year after many years of mentioning the coming paradigm shift that would revolutionize business (not an evolution like social media and social […]
Posted in Featured Posts, Trends & Concepts | Tagged Chief Digital Officer, digitaltransformation, gartner, google, Hype Cycle, Social Media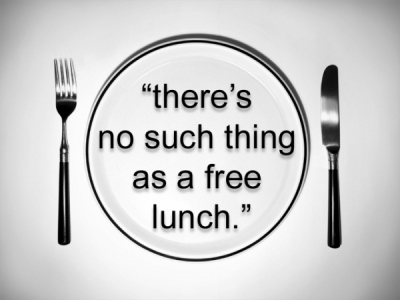 By Bob Warfield on August 18, 2014
Think about it–the experts out there writing marketing advice as part of their content marketing strategies are all selling something.  They're either selling software, consulting, or some other product.  And the audience they're selling to are marketers. Sure, many of them have practices or history that involved marketing to non-marketers, but right now what they're […]
Posted in Business, Featured Posts | Tagged Facebook, google, Infographic, marketing, service, Social Media, Twitter | 1 Response
By R "Ray" Wang on July 23, 2014
 The Great Fire Wall Is Alive And Well Yesterday I arrived in Beijing, China. It's my first visit to the Chinese capital and I'm excited to speak about innovating in the Cloud at Oracle's Cloud World event (see Figure 1). Upon arrival, I went through my usual motions of logging in to wifi, taking pictures […]
Posted in Trends & Concepts | Tagged Apps Strategy, China, enterprise applications, enterprise apps, Enterprise apps strategy, enterprise software, Great Chinese Fire Wall, Personal Log, R "Ray" Wang;, rwang0, Social Media, Software Insider, SoftwareInsider, vendor strategy | 2 Responses
By Tom Raftery on June 25, 2014
We at GreenMonk have been researching and writing about the smart grid space for over six years now. It has long been a sector which resisted significant change, but no more. Several factors have come into play which has ensured that the smart grid we envisioned all those years ago, is now starting to come […]
Posted in Technology / Software | Tagged DMS, Electricity 2.0, next generation customer service, oms, poweron, smart grid, Social Media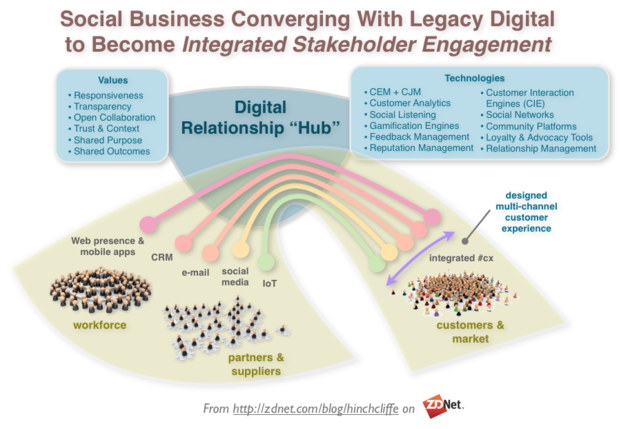 By Dion Hinchcliffe on May 15, 2014
The management concepts that have evolved as social media has transformed global communication are now resulting in meaningful changes in the enterprise.
Posted in Featured Posts, Trends & Concepts | Tagged Internet of Things, social business, Social Media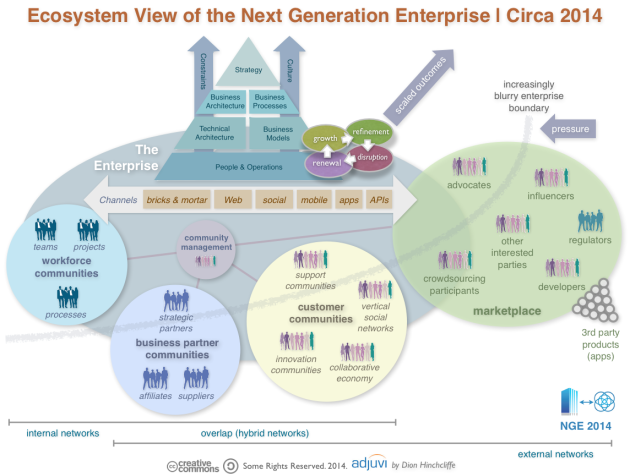 By Dion Hinchcliffe on May 12, 2014
Many of you know that over the last several years I've tried to make the case that most organizations are currently falling behind the advancing pace of technological change. That business is so centered around technology today is the reason why addressing this has become a top competitive issue. Becoming better adapted to tech change […]
Posted in Business, Featured Posts | Tagged Analysis, Crowdsourcing, Enterprise architecture, Network effects, NGE2014, social business, Social Media, strategy, The Enterprise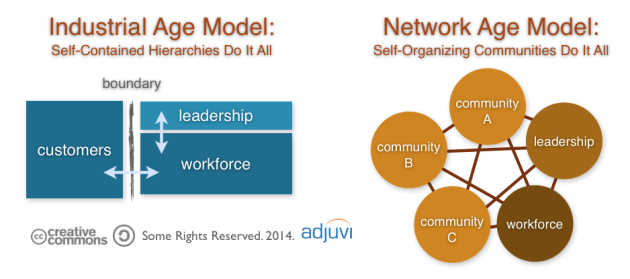 By Dion Hinchcliffe on April 28, 2014
Over the last year or so, a fascinating bow wave of interest has been converging on a growing cadre of companies who appear to be doing something quite novel and seemingly new. Specifically, these organizations have apparently thrown off many of the traditional structures and processes of corporate management. Interestingly, all of these organizations are […]
Posted in Featured Posts, Trends & Concepts | Tagged Analysis, Crowdsourcing, peer production, social business, Social Media, The Enterprise | 1 Response